Rogue with 210 million ADs
I Want to Sell
NeverWinter-PC
Sep-21-2021 14:47:59 PM

80 time(s)

Instant
1. Check out and complete the payment
2. Receive an email with the Game Account details
3. Log in to the Game Account and verify description
4. Confirm the delivery
5. Seller gets paid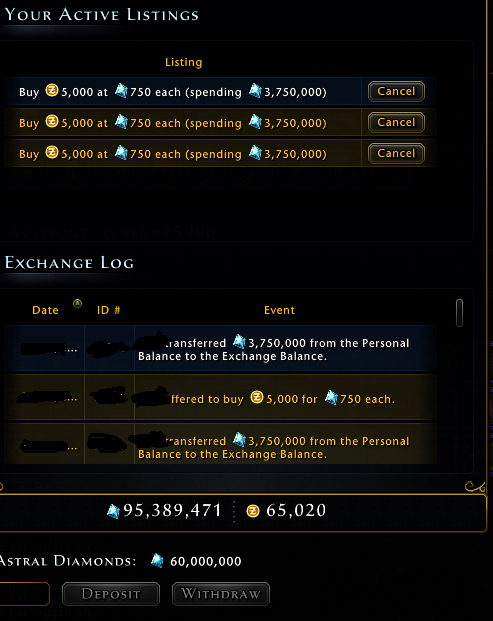 Level 80 Rogue character with 210 mils of Astral Diamonds.
I have sold most of my items and turned them into Astral Diamonds/Zen, hit me up if you are interested in AD/Zen instead of the account. Tell me what you would like to buy.

The account has maximum VIP rank 12 benefits and the duration of VIP status is half a month left and refreshable with Zen instantly.
The main character is geared, was almost maxed out and ready for ToMM, didnt play after ToMM.
The account has 20+ invoke characters, all classes are maxed level 80 and all have 2.000+ reroll tokens.

The main character has ~50mils of Astral Diamonds turned into Zen.
The amount of Zen the account has access to is 65.000. There are 170+ Zok boxes saved up which contain 800k+ AD, 100k refinable per day.
The main character has a couple of Legendary Dragon keys.
The character has also saved up 50+ ToMM keys.
The amount of Coalescent Wards which are account bound is 11.

Various epic mounts with rare skins are in the bank.
Couple of millions of Refining Points saved up whether for sale or for use.

Regarding the bonded stuff that isnt sellable, the account has maximum shared bank space and maximum personal bank space on main character which has also large Inventory thanks to several Legendary Runic Bags.
The main character(Rogue) has 4 Legendary Mount Equip bonuses and Combat bonuses that come with those - Whirlwind, Tenser, Griffon and flail Snail(legacy).

The main character has Companions, all at the legendary rank and that includes the rare and expensive Alpha Compy.
100+ saved up Zok boxes in case another companion gear combination is required.
The main character has all campaigns and Boons maxed out(during TOMM) while a couple of other classes have a good part of Campaigns completed as well. Several Artifacts at mythic rank stored in the Bank.
Various rare transmutes from Anniversaries and other events as well as rare fashion sets and Titles.

The character doesnt have MasterWorking unlocked but with the amount of Astral Diamonds at disposal that is not an issue if the new owner wishes to engage in Professions to make more AD.
Dragonborn race unlocked and several other account-wide Zen store packs and items.
| Feedback | Comment | From Buyer | Time |
| --- | --- | --- | --- |
PlayerAuctions makes it safe to buy from our members by securing your payment and guaranteeing delivery.
Buyer creates order and send payment to PlayerAuctions
PlayerGuardian secures payment
Seller completes delivery within delivery guarantee
Buyer confirm delivery
Seller receives disbursement
Option 1: In-game, Face to Face Delivery
Sellers will select this method of delivery if they intend to meet your character in-game with one of their own characters. Usually a seller will coordinate a time and location in-game to meet your character.
Tips:
Be sure to confirm the time to account for time zone differences
Confirm which Shard or Server the delivery is to take place in case your game world has more than one.
Never, under any circumstances, return gold, item, etc. to the delivery character if ever asked. In the event the seller asks you to, please take A screenshot and report this to PlayerAuctions Customer Support.
Option 2: In-game Mailbox delivery.
Some sellers will select the option to deliver gold or items directly to an in-game mailbox. This option is less popular for larger Games like WoW, but is still viable amongst other games. This option can be convenient for smaller orders because you do not need to coordinate time of delivery.
Low Prices: Prices set by other players or PowerSellers on PlayerAuctions are significantly lower than the high markups you would find on expensive retail sites.
Guaranteed Security: PlayerAuctions is quite simply the most secure place to buy and sell MMO game assets. Through PlayerGuardian, you are 100% guaranteed full and as-described delivery, or your money back.
Reliable Delivery Speed: PlayerAuctions calculates each seller's average delivery speed from the seller's latest successfully completed deliveries, which gives you a clear idea of how fast the seller will deliver your order.
To see how quickly the seller may deliver your order, refer to the seller's delivery guarantee period, which is their promise to complete delivery within a certain timeframe after your payment is securely sent to PlayerAuctions and is successfully verified. Each seller sets their delivery guarantee period independent of PlayerAuctions. In the event that the seller is not able to complete the delivery within their guaranteed time, you may cancel the order without penalty for a hassle-free refund from PlayerAuctions.
PlayerAuctions guarantees that the seller will deliver your order, or your money back. The overwhelming majority of transactions through our site occur successfully. As for the very exceptional cases, you can rest assured that they have been carefully considered by our systems and processes, and we are well prepared to handle them in the rare event that they do occur. Read more.
PlayerGuardian Buyer Protections
PlayerAuctions is the most secure place to buy and sell MMO game assets. Our proprietary security technology, PlayerGuardian, keeps you, your payments, and your trades protected and private. The protections below are provided to all PlayerAuctions buyers.
Guaranteed Payment Security
Convenient & Worry-Free Trading
A Secure, Trusted Trading Community
Guaranteed Full and As-Described Delivery, or Your Money Back
Guaranteed Seller On-Time Delivery, or Your Money Back
Information Privacy
PlayerAuctions After Sale 100% Support Guarantee
Transparent Seller Service Ratings
Bank-Level Data Security
Read more