Buy MIR4 Gold – MIR4 Currency Market
MIR4 requires players to constantly have a lot of currency on hand, so what better way to start one's journey by having enough MIR4 gold right off the bat? With the Korean MMORPG slowly but surely conquering the crowd around the world, gamers sooner or later will know just how truly important the currency is for their gameplay experience.
SELL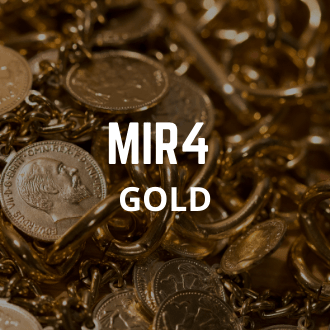 The Difference Between MIR4 Compared Other MMOs
At first glance, MIR4 can be thought of as just another typical MMORPG that one would often find in dubious ads and banners when browsing other websites, but in reality, it's so much more than that. MIR4 is based on a platform that's built on Blockchain. The concept of using Blockchain is relatively new to the gaming scene, but its popularity has since skyrocketed because of how it works. Through Blockchain, players can extract cryptocurrencies from the game itself and sell them in the virtual market for real money--that's right, this is all completely legal.
The usage of Blockchain in a game isn't relatively new though. Other similar games like it such as Perfect World have already been using it for quite a long time. MIR4 promises to be one of the best releases for 2021 in the NFT gaming segment, and with so many newcomers entering the cryptocurrency market thanks to these kinds of games, they have to first understand how it works and what are the possible risks that they hold. For example, the rate of the cryptocurrency in MIR4, much like in other NFT games, can fluctuate. This means that players will have to constantly monitor the market on when's the best time to buy and sell currency.
The Big Three: DRACO Coins, Darksteel, and Gold Coins
MIR4 is a complicated MMORPG in which there's a lot of different types of materials and currencies to keep in mind. The three main currencies that every MIR4 player should know about are DRACO Coins, Darksteel, and Gold Coins.
DRACO Coins are the cream of the crop in MIR4--it's what everyone wants to have. Being that it's a cryptocurrency, players can convert their DRACO Coins into actual money should they generate enough of it. But to even have DRACO Coins in the first place, they must first farm enough Darksteel for it.
Darksteel can be best described as "raw material", but at its core, it's a currency that can be exchanged for DRACO coins and vice versa. Players will have to mine hundreds of thousands of Darksteel a day if they want to convert a hefty amount of DRACO coins per day. To do so, gamers often go to chambers and mines together with other players and begin mining them there until they run out of Vigor.
Finally, Gold Coins are often treated as a premium currency despite DRACO Coins being more valuable. The Gold Coins are used by players to purchase skins and other cosmetic items in the in-game shop. This is the perfect currency to have for those that like to stylize their characters and truly make them their own.
PlayerAuctions makes it safe to buy video game currencies from our members by securing your payment and guaranteeing delivery.
Buyer creates order and send payment to PlayerAuctions
PlayerGuardian secures payment
Seller completes delivery within delivery guarantee
Buyer confirm delivery
Seller receives disbursement
Option 1: In-game, Face to Face Delivery
Sellers will select this method of delivery if they intend to meet your character in-game with one of their own characters. Usually a seller will coordinate a time and location in-game to meet your character.
Tips:
Be sure to confirm the time to account for time zone differences
Confirm which Shard or Server the delivery is to take place in case your game world has more than one.
Never, under any circumstances, return gold, item, etc. to the delivery character if ever asked. In the event the seller asks you to, please take A screenshot and report this to PlayerAuctions Customer Support.
Option 2: In-game Mailbox delivery.
Some sellers will select the option to deliver gold or items directly to an in-game mailbox. This option is less popular for larger Games like WoW, but is still viable amongst other games. This option can be convenient for smaller orders because you do not need to coordinate time of delivery.
Low Prices: Prices set by other players or PowerSellers on PlayerAuctions are significantly lower than the high markups you would find on expensive retail sites.
Guaranteed Security: PlayerAuctions is quite simply the most secure place to buy and sell MMO game assets. Through PlayerGuardian, you are 100% guaranteed full and as-described delivery, or your money back.
Reliable Delivery Speed: PlayerAuctions calculates each seller's average delivery speed from the seller's latest successfully completed deliveries, which gives you a clear idea of how fast the seller will deliver your order.
To see how quickly the seller may deliver your order, refer to the seller's delivery guarantee period, which is their promise to complete delivery within a certain timeframe after your payment is securely sent to PlayerAuctions and is successfully verified. Each seller sets their delivery guarantee period independent of PlayerAuctions. In the event that the seller is not able to complete the delivery within their guaranteed time, you may cancel the order without penalty for a hassle-free refund from PlayerAuctions.
PlayerAuctions guarantees that the seller will deliver your order, or your money back. The overwhelming majority of transactions through our site occur successfully. As for the very exceptional cases, you can rest assured that they have been carefully considered by our systems and processes, and we are well prepared to handle them in the rare event that they do occur. Read more.
Why Gamers Buy MIR4 DRACO and How it Works
MIR4 players can craft cryptocurrency tokens through farming. This is where players get to extract an in-game currency called Darksteel. By literally mining in the game, they can get a sizeable amount of Darksteel. Then, the mined Darksteel can be "melted" and exchanged for tokens in the Blockchain platform. The token is called DRACO.
The best way to think about what's DRACO and how it works is that it's a utility token. It essentially allows players to take actions that engage the MIR4 ecosystem with the outside world. With DRACO, they can also buy, sell, and trade all sorts of assets that are in and out of the game. During the early days of MIR4, players have to farm 100k Darksteel just to get one DRACO token. But with the exchange rate constantly moving, it's hard to tell whether there will be an increase of Darksteel that'll be needed in exchange for DRACO coins in the future or not. This results in many gamers getting as much MIR4 DRACO as they can. With most NFT games continuing to rise in popularity, it's not just a baseless assumption to say that the value of the cryptocurrency will surely spike in the future. This makes it the perfect time for buyers to get the token so that they can sell it to the other newer players later on when the time is right.
What is Darksteel?
Just what is Darksteel and how does it work when it comes to generating DRACO Coins? TO sum up a general idea of what it is, it's essentially a raw material where players are able to mine in down in the gold or silver chambers. Simply put, it is the lifeblood of MIR4 as one could never get DRACO Coins without it. Thankfully, players don't necessarily need to pay top dollar just to get Darksteel, they will, however, have to work to the bone for it since it can only be farmed in the mines.
Other Currencies to Keep in Mind
There are all sorts of other currencies in MIR4 to keep in mind other than DRACO Coins and Darksteel. Gold coins, for example, are a premium currency that can be used to purchase all sorts of different skins and items that alter the appearance of a player's character. On the other hand, Copper is what's commonly spent to get Bag Expansion tickets which increases a player's inventory. While they're not as important as DRACO Coins or Darksteel, players still use them on a day-to-day basis in terms of upgrading their equipment and other nuances that give quality-of-life changes to their playthrough of MIR4
PlayerGuardian Buyer Protections
PlayerAuctions is the most secure place to buy and sell MMO game assets. Our proprietary security technology, PlayerGuardian, keeps you, your payments, and your trades protected and private. The protections below are provided to all PlayerAuctions buyers.
Guaranteed Payment Security
Convenient & Worry-Free Trading
A Secure, Trusted Trading Community
Guaranteed Full and As-Described Delivery, or Your Money Back
Guaranteed Seller On-Time Delivery, or Your Money Back
Information Privacy
PlayerAuctions After Sale 100% Support Guarantee
Transparent Seller Service Ratings
Bank-Level Data Security
Read more
PlayerAuctions is an independent player-to-player marketplace for buying and selling virtual video game property. PlayerAuctions is NOT endorsed by, directly affiliated with, maintained, authorized, or sponsored by MIR4 or its trademark owner.
Select server and Faction