Buy Magic: Legends Currency – Magic Legends Market
Planeswalkers need money too! Whether it's for in-game services, getting better equipment, or fixing up your deck, you'll need loads of Magic Legends currency. So buy some now to cut down on needless grinding and get the deck of your dreams. There's no better place to do so than PlayerAuctions!
SELL
Darn! There Are No Offers...But Wait.
Did you know we have over 200 games available for trading? Here are our most popular ones:
Want To Be the First to Sell?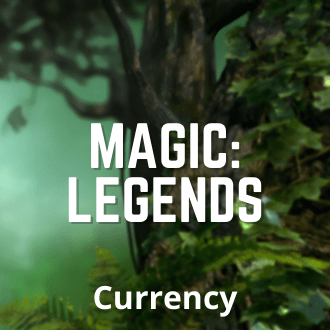 How to Receive your Magic Legends Currency
Pick an offer to buy.
Pay the required amount.
Set an in-game meeting place and a time to meet up with the seller.
Meet up in-game and receive your currency in a trade.
Confirm the delivery with us.
Enjoy your new currency!
Be respectful and mindful of societal niceties. Being polite goes a long way for a harmonious and worry-free transaction.
Some Reasons to Buy Magic Legends Currency
Here are a few reasons to buy Magic Legends currency.
You want to save up some in-game money, but you can't play for too long to ever earn much of it. Maybe you're swamped with work or have some tasks that require attentive supervision. At any rate, you can't use your time sitting in front of a screen, grinding for currency.
You need it to get something that's available for a limited time. There could be a sale for a card needed to complete your deck. Otherwise, a limited edition piece of equipment or skin is available but will no longer be soon. Whatever your reasons, you need money and you need it ASAP.
You just wanted some spending allowance or a buffer. It may be something unneeded now, but you want to be able to spend when the time comes. Just like in real life, having savings would be good in-game as well.
It's convenient, cheap, and secure. You won't have to worry, and you get your currency. Grinding is painstaking work. It usually involves repetitive motions and processes. If done for too long, it's no wonder people get a little touched in the head. Plus, it takes very long, especially if you're not used to it. Also, there's the fact that you might not be doing it efficiently, which makes the task even more tedious.
Yet, there are people who enjoy this kind of thing. They are the ones who usually end up as sellers. At any rate, they've already done it, so you don't have to. All you need to do is to follow the steps above, and you can enjoy your stuffed wallet.
Remember, there's no better marketplace to buy Magic Legends currency than here at PlayerAuctions. We have security, safety, convenience, and affordable services all in one site. Register now, and take advantage of all that we offer.
Go on and save the world, Planeswalker, and remember who helped you along the way.
PlayerAuctions makes it safe to buy video game currencies from our members by securing your payment and guaranteeing delivery.
Buyer creates order and send payment to PlayerAuctions
PlayerGuardian secures payment
Seller completes delivery within delivery guarantee
Buyer confirm delivery
Seller receives disbursement
Option 1: In-game, Face to Face Delivery
Sellers will select this method of delivery if they intend to meet your character in-game with one of their own characters. Usually a seller will coordinate a time and location in-game to meet your character.
Tips:
Be sure to confirm the time to account for time zone differences
Confirm which Shard or Server the delivery is to take place in case your game world has more than one.
Never, under any circumstances, return gold, item, etc. to the delivery character if ever asked. In the event the seller asks you to, please take A screenshot and report this to PlayerAuctions Customer Support.
Option 2: In-game Mailbox delivery.
Some sellers will select the option to deliver gold or items directly to an in-game mailbox. This option is less popular for larger Games like WoW, but is still viable amongst other games. This option can be convenient for smaller orders because you do not need to coordinate time of delivery.
Low Prices: Prices set by other players or PowerSellers on PlayerAuctions are significantly lower than the high markups you would find on expensive retail sites.
Guaranteed Security: PlayerAuctions is quite simply the most secure place to buy and sell MMO game assets. Through PlayerGuardian, you are 100% guaranteed full and as-described delivery, or your money back.
Reliable Delivery Speed: PlayerAuctions calculates each seller's average delivery speed from the seller's latest successfully completed deliveries, which gives you a clear idea of how fast the seller will deliver your order.
To see how quickly the seller may deliver your order, refer to the seller's delivery guarantee period, which is their promise to complete delivery within a certain timeframe after your payment is securely sent to PlayerAuctions and is successfully verified. Each seller sets their delivery guarantee period independent of PlayerAuctions. In the event that the seller is not able to complete the delivery within their guaranteed time, you may cancel the order without penalty for a hassle-free refund from PlayerAuctions.
PlayerAuctions guarantees that the seller will deliver your order, or your money back. The overwhelming majority of transactions through our site occur successfully. As for the very exceptional cases, you can rest assured that they have been carefully considered by our systems and processes, and we are well prepared to handle them in the rare event that they do occur. Read more.
PlayerGuardian Buyer Protections
PlayerAuctions is the most secure place to buy and sell MMO game assets. Our proprietary security technology, PlayerGuardian, keeps you, your payments, and your trades protected and private. The protections below are provided to all PlayerAuctions buyers.
Guaranteed Payment Security
Convenient & Worry-Free Trading
A Secure, Trusted Trading Community
Guaranteed Full and As-Described Delivery, or Your Money Back
Guaranteed Seller On-Time Delivery, or Your Money Back
Information Privacy
PlayerAuctions After Sale 100% Support Guarantee
Transparent Seller Service Ratings
Bank-Level Data Security
Read more