Madden 23 Coins: NFL 23 Coin Shop
Madden NFL 23 is the most advanced American football and NFL experience yet. In celebration of the expert commentator's legacy, John Madden, the game boasts a robust agency trading tool, technical gameplay, and fluid animation. Players can buy Madden 23 Coins which are used to buy players and item packs—strengthen your team and become #1 in the league!
SELL
cheaprsgolds
184842971
Best price among sellers with a fair amount of ratings and feedback score.
cheaprsgolds
184767208
Best price among sellers with a fair amount of ratings and feedback score.
cheaprsgolds
184767210
Best price among sellers with a fair amount of ratings and feedback score.
cheaprsgolds
184843060
Best price among sellers with a fair amount of ratings and feedback score.
cheaprsgolds
184843062
Best price among sellers with a fair amount of ratings and feedback score.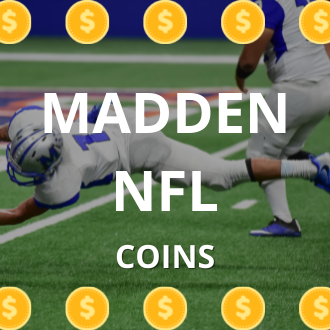 About Madden 23
Players make their dream teams and compete in virtual NFL competitions. It's part of the long-standing series of games made by EA, with gradual quality of life improvements. However, gameplay and mechanics remain largely the same, so it really isn't too different from the last game.
The players would have to collect the virtual football players and play in games. They get the virtual players through packs and the auction, though some are available when they complete challenges. There's also the Yard to play with, a sort of more casual game mode. It's like playing out in your own backyard.
Why Buy Madden 23 Coins
One of the best ways to farm Madden 23 coins is to sell players on the auction. The thing is, the process is kind of slow unless you go and sell them for cheap. Sure, that's faster but needs a whole lot of players to make any significant gain. On the other end of the spectrum, selling them for high prices might take a while. One exception is when the player in question is popular enough.
At any rate, that's going to take some time, which some buyers may not have in abundance. The quickest and most convenient way to get coins is to buy coins from online sellers. As long as the transaction takes place on a reliable marketplace, it'll be a safe, secure, and quick trade.
Buyers do have to read up on the game's and the marketplace's policies and rules. There could be consequences to participating in this kind of transaction. It's a good step to be aware and to know how to react properly when these consequences happen.
Enjoy Madden 23!
Based on the total ratings of 41 orders in the past year
Very easy have used them for runescape to haha cheers thank you!!
400 K Madden-NFL Coins
09/06/2022
great service quick delivery
700 K Madden-22 Coins
10/07/2021
They are very patient and work with you. He helped me understand the process! A+
300 K Madden-22 Coins
09/06/2021
PlayerAuctions makes it safe to buy video game currencies from our members by securing your payment and guaranteeing delivery.
Buyer creates order and send payment to PlayerAuctions
PlayerGuardian secures payment
Seller completes delivery within delivery guarantee
Buyer confirm delivery
Seller receives disbursement
Option 1: In-game, Face to Face Delivery
Sellers will select this method of delivery if they intend to meet your character in-game with one of their own characters. Usually a seller will coordinate a time and location in-game to meet your character.
Tips:
Be sure to confirm the time to account for time zone differences
Confirm which Shard or Server the delivery is to take place in case your game world has more than one.
Never, under any circumstances, return gold, item, etc. to the delivery character if ever asked. In the event the seller asks you to, please take A screenshot and report this to PlayerAuctions Customer Support.
Option 2: In-game Mailbox delivery.
Some sellers will select the option to deliver gold or items directly to an in-game mailbox. This option is less popular for larger Games like WoW, but is still viable amongst other games. This option can be convenient for smaller orders because you do not need to coordinate time of delivery.
Low Prices: Prices set by other players or PowerSellers on PlayerAuctions are significantly lower than the high markups you would find on expensive retail sites.
Guaranteed Security: PlayerAuctions is quite simply the most secure place to buy and sell MMO game assets. Through PlayerGuardian, you are 100% guaranteed full and as-described delivery, or your money back.
Reliable Delivery Speed: PlayerAuctions calculates each seller's average delivery speed from the seller's latest successfully completed deliveries, which gives you a clear idea of how fast the seller will deliver your order.
To see how quickly the seller may deliver your order, refer to the seller's delivery guarantee period, which is their promise to complete delivery within a certain timeframe after your payment is securely sent to PlayerAuctions and is successfully verified. Each seller sets their delivery guarantee period independent of PlayerAuctions. In the event that the seller is not able to complete the delivery within their guaranteed time, you may cancel the order without penalty for a hassle-free refund from PlayerAuctions.
PlayerAuctions guarantees that the seller will deliver your order, or your money back. The overwhelming majority of transactions through our site occur successfully. As for the very exceptional cases, you can rest assured that they have been carefully considered by our systems and processes, and we are well prepared to handle them in the rare event that they do occur. Read more.
PlayerGuardian Buyer Protections
PlayerAuctions is the most secure place to buy and sell MMO game assets. Our proprietary security technology, PlayerGuardian, keeps you, your payments, and your trades protected and private. The protections below are provided to all PlayerAuctions buyers.
Guaranteed Payment Security
Convenient & Worry-Free Trading
A Secure, Trusted Trading Community
Guaranteed Full and As-Described Delivery, or Your Money Back
Guaranteed Seller On-Time Delivery, or Your Money Back
Information Privacy
PlayerAuctions After Sale 100% Support Guarantee
Transparent Seller Service Ratings
Bank-Level Data Security
Read more
Select server and Faction