NA-WEST 6xDeathblades (1548,1545,1520,1520,1515,1515), Gunslinger 1512, Sorc 1460. 3300+hours
I Want to Sell
Lost Ark-North America-West-Bergstrom

Sep-28-2023 17:26:22 PM

69 time(s)

Instant

30-Day Seller Performance

Total orders

Lost Ark
account reviews

Total rating

Lost Ark
account rating

Total orders: 3

Member since: 2020

5.0

Lost Ark account : Seller Rating

(1)
1. Check out and complete the payment
2. Receive an email with the Game Account details
3. Log in to the Game Account and verify description
4. Confirm the delivery
5. Seller gets paid
Hi, I've decided to sell my account because I no longer have the opportunity to play this wonderful game.
Buy this account you'll get the result of 3000+ hours of my work by free-to-playing.
Updated 30.08.23
Characters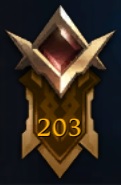 Roster lvl 203 (best runes, skillpoints, additional bifrost etc.!)

My main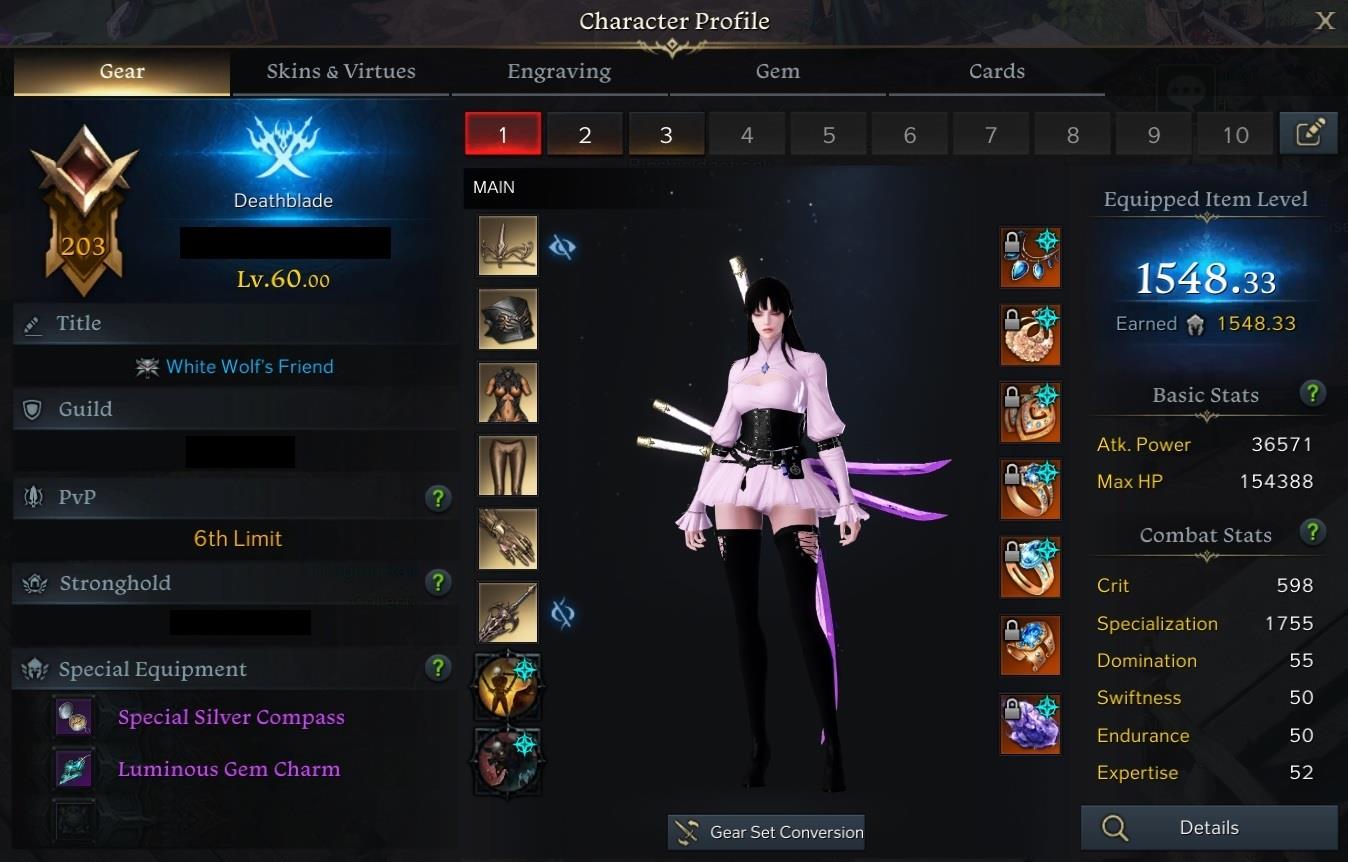 BTW express event is available! So you can create new character and up ez 1540gs (account have a lot honing recources for it aswell, check bank screenshots below!) In additional this event gives full lvl 7 gems and 5 engravings for free :)

Random dps parse for 4:30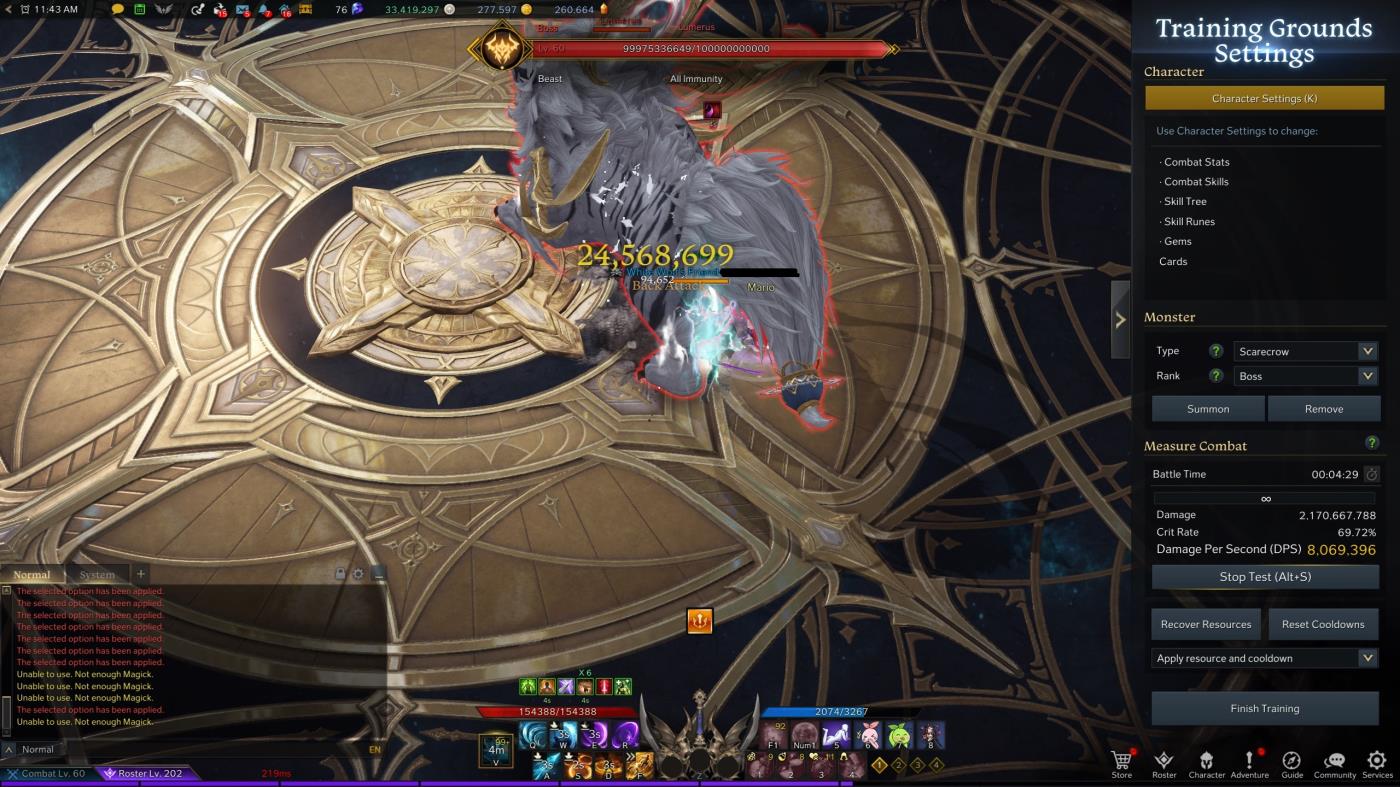 Full BiS lvl 5 tripods of course, 408 skill points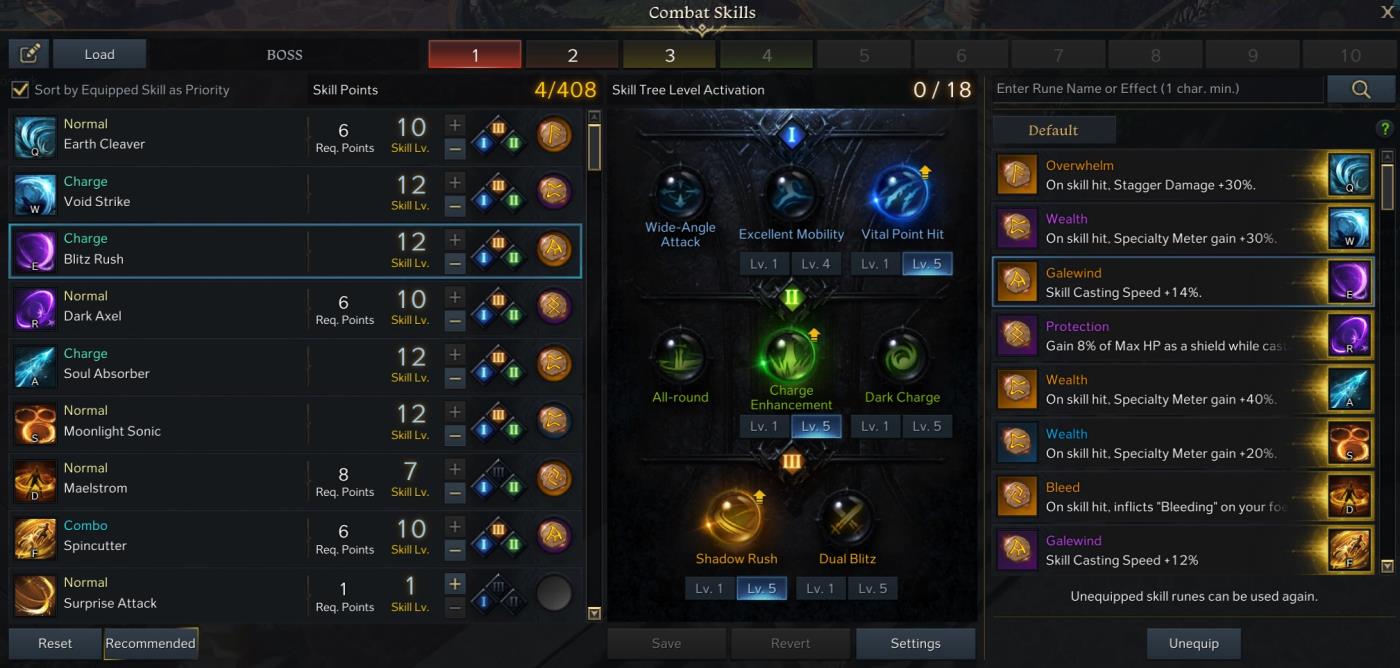 8 slots & characters:
Deathblades -> ALL: 5x3 engravings (Remaining energy, Grudge, Ambush Master, Adrenaline, Super Charge)
lvl 5 tripods for each ability that is used in the build!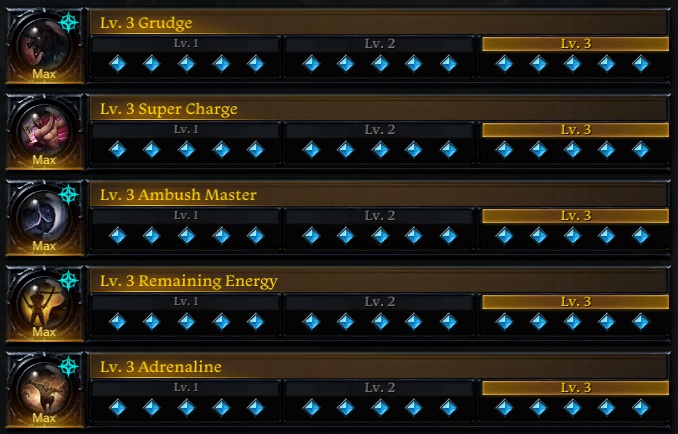 There's current item quality of characters and chaos stones they currently have.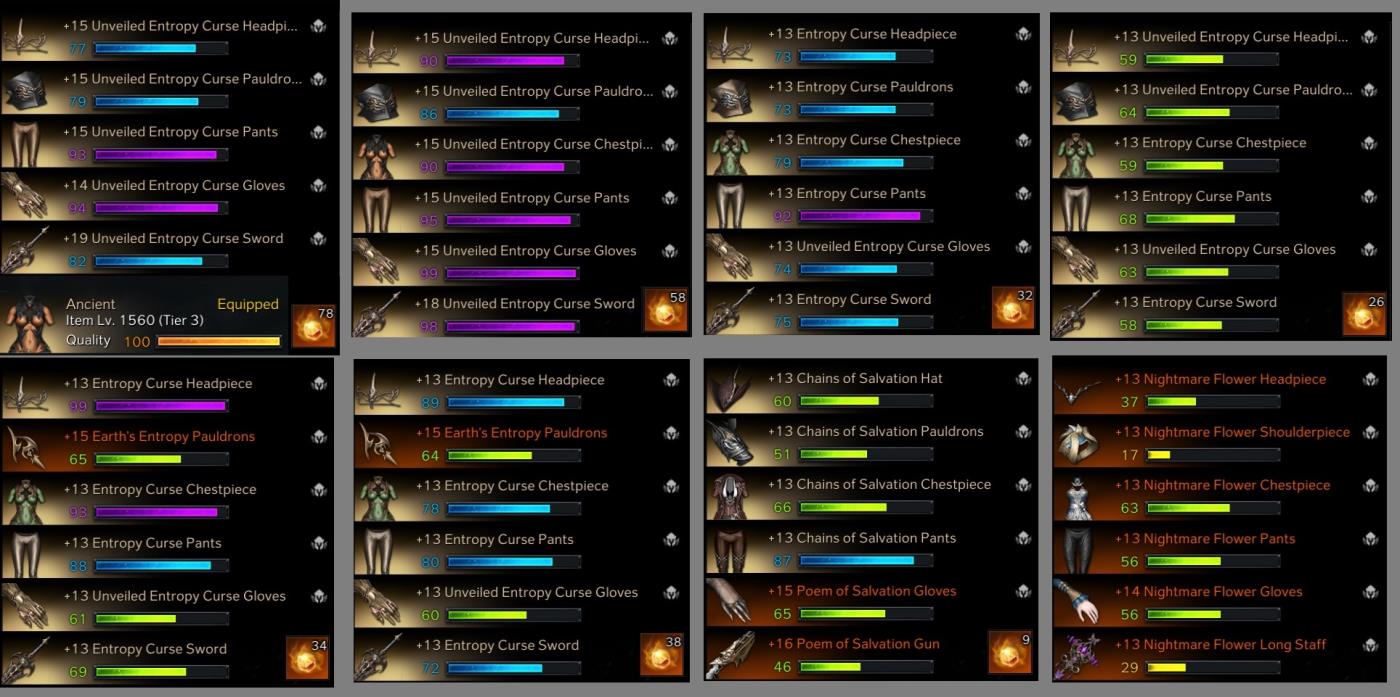 Gems:
Surge dmg - lvl 9
Maelstrom cd - lvl 10
Earthcleaver dmg - lvl 7
Soul Absorber dmg - lvl 9
Soul Absorber cd - lvl 7
Blitz Rush dmg - lvl 9
Blitz Rush cd - lvl 7
Void Strike dmg - lvl 8
Void Strike cd - lvl 7
Moonlight Sonic dmg - lvl 7
Moonlight Sonic cd - lvl 7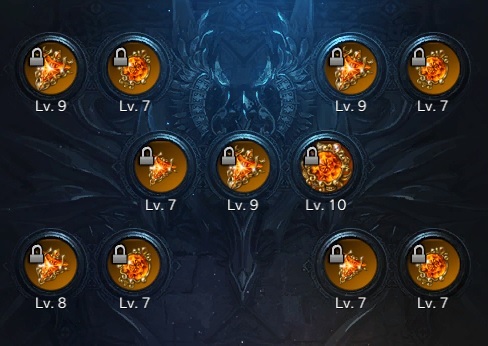 Gunslinger -> 4x3+1x2 (Peacemaker, Hit Master, Grudge, Keen Blunt Weapon, Adrenaline for 2/3)
lvl 5 tripods for each ability that is used in the build!
Gems:
Focused Shot dmg - lvl 7
Focused Shot cd - lvl 7
Target Down dmg - lvl 6
Target Down cd - lvl 6
Sharpshooter dmg - lvl 7
Sharpshooter cd - lvl 7
Dual Buckshot dmg - lvl 7
Dual Buckshot cd - lvl 7
Perfect Shot dmg - lvl 7
Catastrophe dmg - lvl 7
Bullet Rain dmg - lvl 6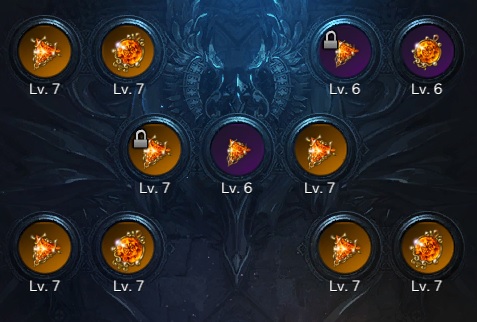 Sorceress has event lvl 5 gems and alomost all lvl 4 tripods that she needed. Her accessories are bad, I didn't really care for her :D But to make she strong will not be difficult and not expensive.
Account Currency & Items & Features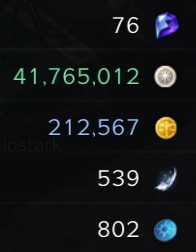 Pheons: 800+
Gold: 200,000+
Silver: 40,000,000+
Amethyst Shards: 13,500 (unique hard to get currency)
Stronghold lvl 70(max), all buildings is done. Special Items for reduce crafting cost & multicraft
Level 10 Astray with skin (fastest ship in game)
x1 Character Reskin Ticket
x8 Class Engraving Selection Chests
x18 Legendary Card Selection Packs
Just a whole bunch of costumes that I bought or received from events
A lot Twitch drops rewards
Lost Ark x Witcher collaboration reward received!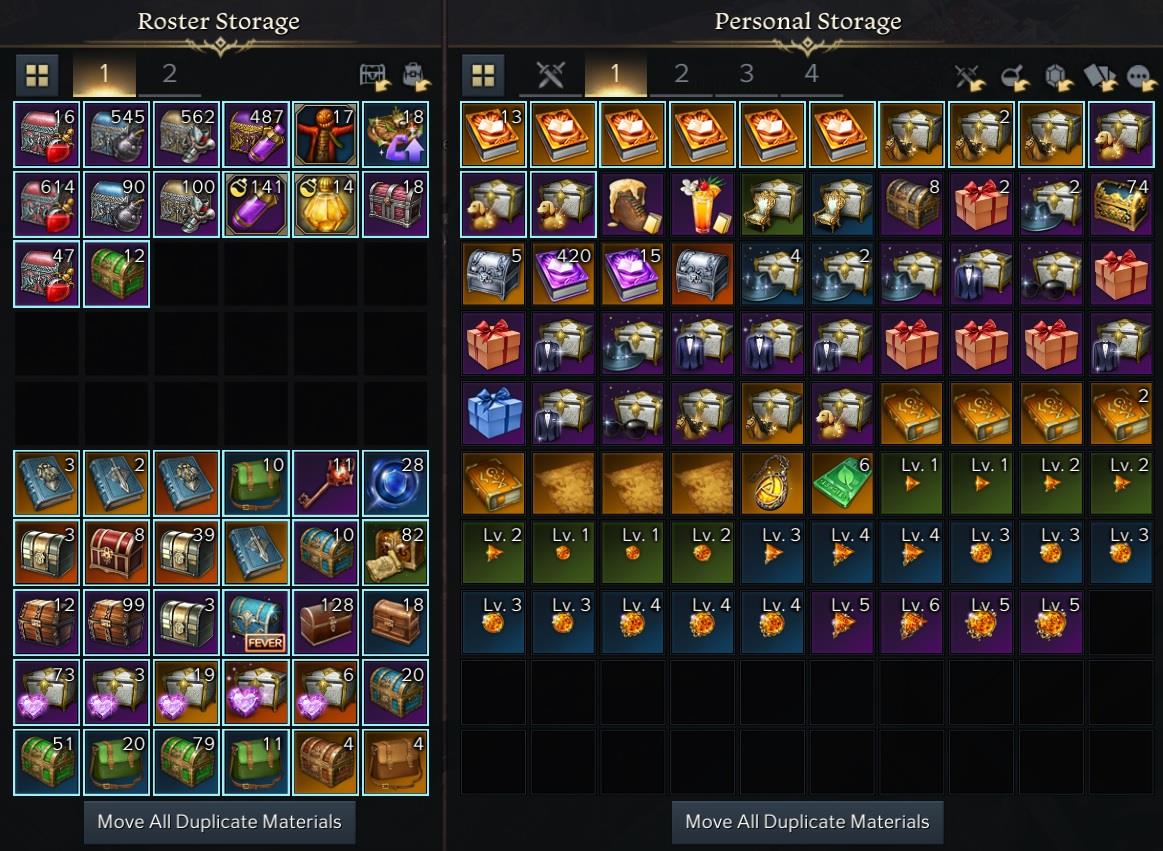 **Since I continue to play until the account is sold, the contents of the bank may change.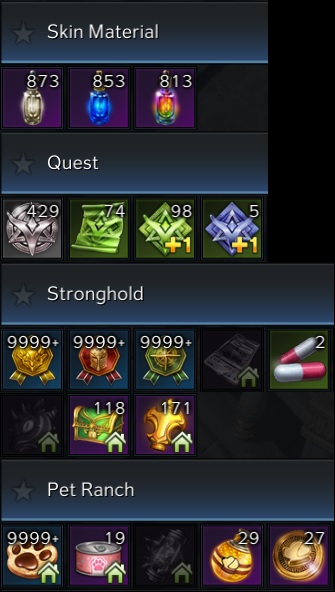 Collections & Trade Skills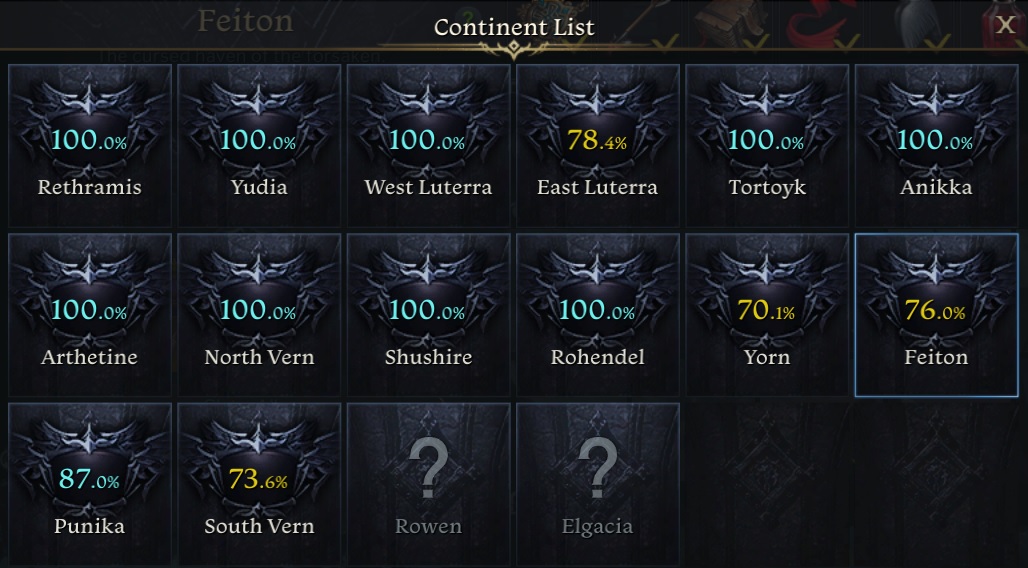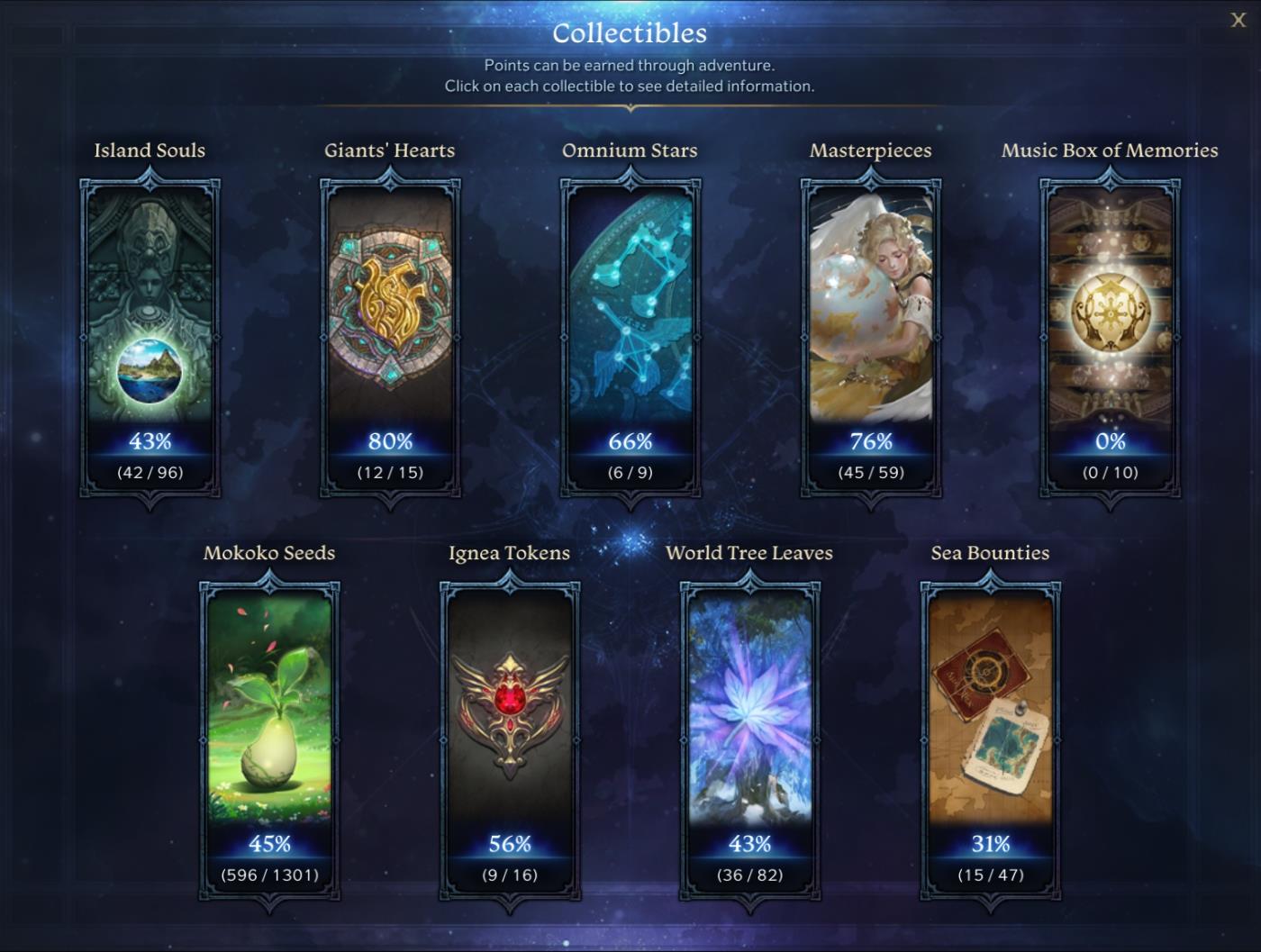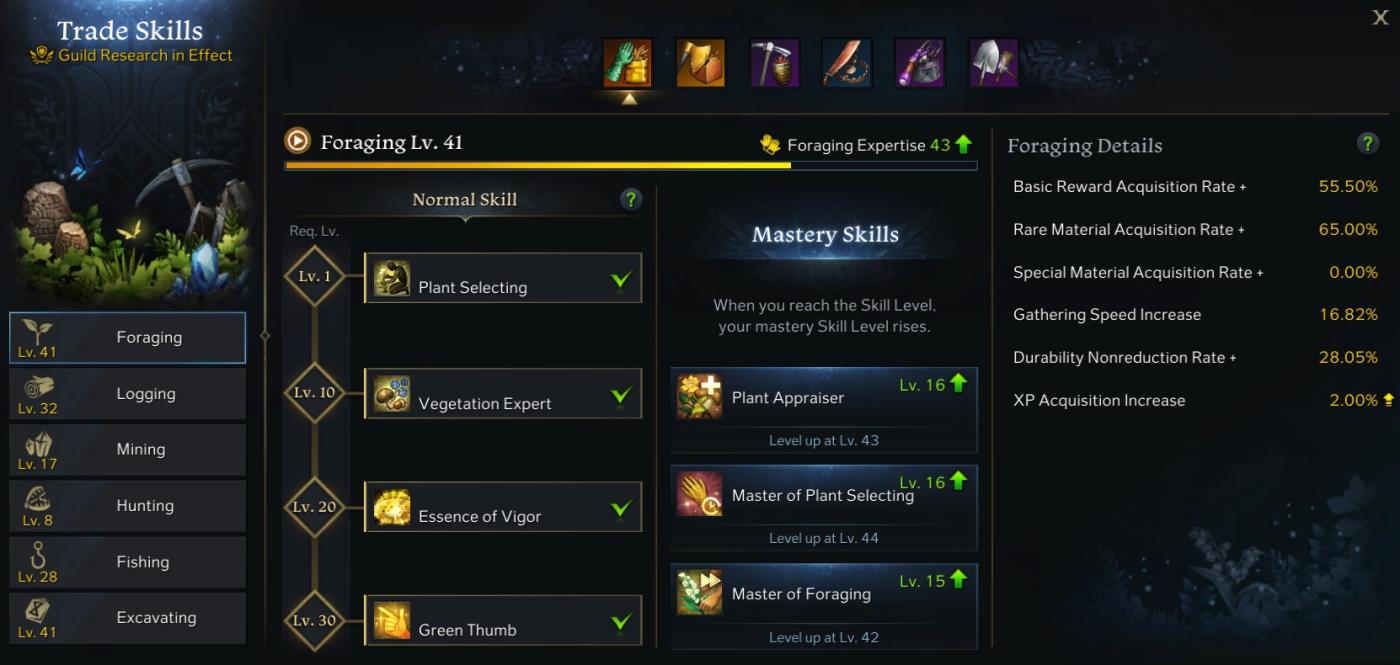 Card sets
Lostwind CLiff: lvl 19/30
Three Umar Families: lvl 12/15
Kazeros's Legion Commanders: lvl 11/30
Light of Salvation: lvl 17/30
!! And 17 Legendary Selection Packs in bank !! (heading for 1-tap lvl30 LoS set)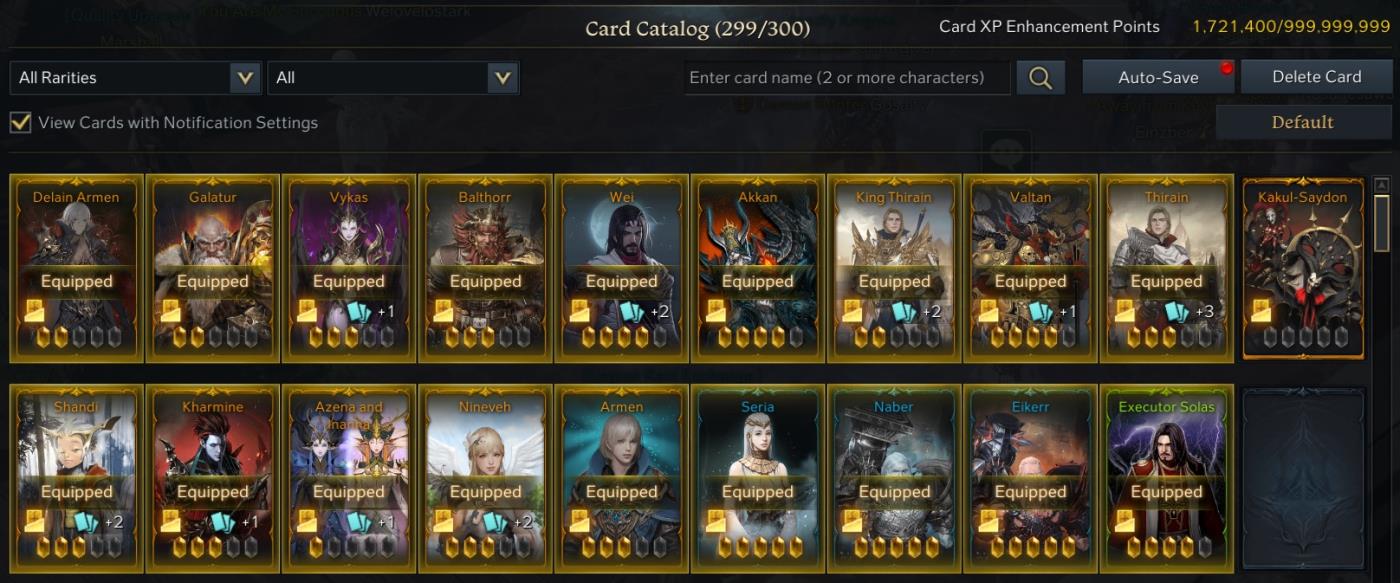 + 18 selection packs in bank!!
Pets
13 pets, 6 of them is legendary quality. And x3 pet selection chests in bank (total 15 on acc)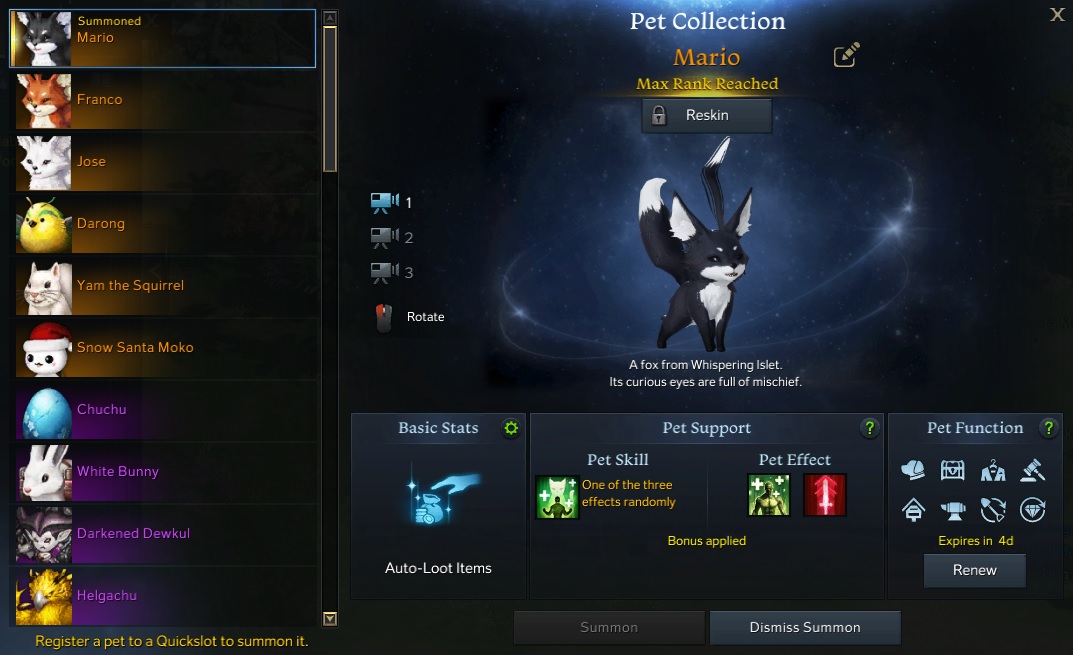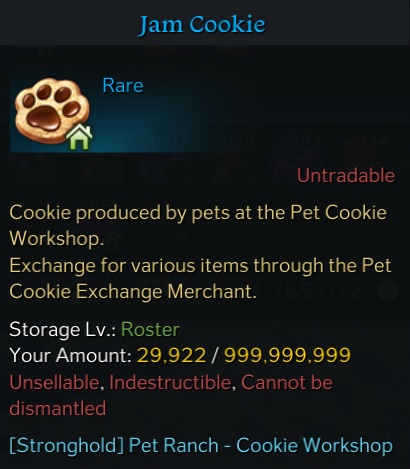 This currency, which is farmed by pets. With it, you can improve their quality, buying cosmetic items for your characters or a deck of cards. That's a lot of currency.
Mounts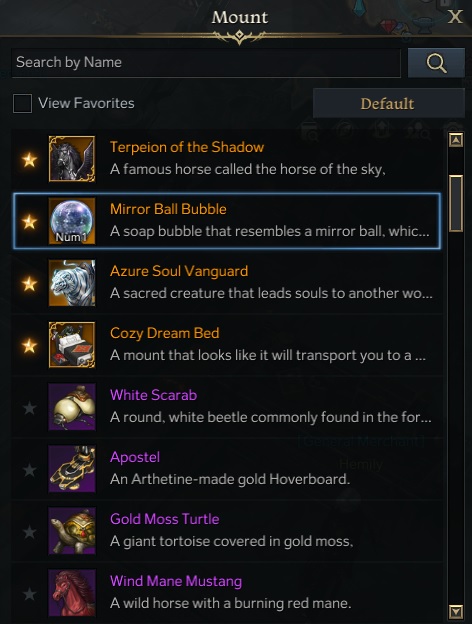 +some mount chests in bank
| Feedback | Comment | From Buyer | Time |
| --- | --- | --- | --- |
PlayerAuctions makes it safe to buy from our members by securing your payment and guaranteeing delivery.
Buyer creates order and send payment to PlayerAuctions
PlayerGuardian secures payment
Seller completes delivery within delivery guarantee
Buyer confirm delivery
Seller receives disbursement
Option 1: In-game, Face to Face Delivery
Sellers will select this method of delivery if they intend to meet your character in-game with one of their own characters. Usually a seller will coordinate a time and location in-game to meet your character.
Tips:
Be sure to confirm the time to account for time zone differences
Confirm which Shard or Server the delivery is to take place in case your game world has more than one.
Never, under any circumstances, return gold, item, etc. to the delivery character if ever asked. In the event the seller asks you to, please take A screenshot and report this to PlayerAuctions Customer Support.
Option 2: In-game Mailbox delivery.
Some sellers will select the option to deliver gold or items directly to an in-game mailbox. This option is less popular for larger Games like WoW, but is still viable amongst other games. This option can be convenient for smaller orders because you do not need to coordinate time of delivery.
Low Prices: Prices set by other players or PowerSellers on PlayerAuctions are significantly lower than the high markups you would find on expensive retail sites.
Guaranteed Security: PlayerAuctions is quite simply the most secure place to buy and sell MMO game assets. Through PlayerGuardian, you are 100% guaranteed full and as-described delivery, or your money back.
Reliable Delivery Speed: PlayerAuctions calculates each seller's average delivery speed from the seller's latest successfully completed deliveries, which gives you a clear idea of how fast the seller will deliver your order.
To see how quickly the seller may deliver your order, refer to the seller's delivery guarantee period, which is their promise to complete delivery within a certain timeframe after your payment is securely sent to PlayerAuctions and is successfully verified. Each seller sets their delivery guarantee period independent of PlayerAuctions. In the event that the seller is not able to complete the delivery within their guaranteed time, you may cancel the order without penalty for a hassle-free refund from PlayerAuctions.
PlayerAuctions guarantees that the seller will deliver your order, or your money back. The overwhelming majority of transactions through our site occur successfully. As for the very exceptional cases, you can rest assured that they have been carefully considered by our systems and processes, and we are well prepared to handle them in the rare event that they do occur. Read more.
PlayerGuardian Buyer Protections
PlayerAuctions is the most secure place to buy and sell MMO game assets. Our proprietary security technology, PlayerGuardian, keeps you, your payments, and your trades protected and private. The protections below are provided to all PlayerAuctions buyers.
Guaranteed Payment Security
Convenient & Worry-Free Trading
A Secure, Trusted Trading Community
Guaranteed Full and As-Described Delivery, or Your Money Back
Guaranteed Seller On-Time Delivery, or Your Money Back
Information Privacy
PlayerAuctions After Sale 100% Support Guarantee
Transparent Seller Service Ratings
Bank-Level Data Security
Read more
PlayerAuctions is an independent player-to-player marketplace for buying and selling virtual video game property. PlayerAuctions is NOT endorsed by, directly affiliated with, maintained, authorized, or sponsored by Lost Ark or its trademark owner.