(DBA) Division boosting Gold IV - Platinum IV [Any region]/ Available 24/7/ Chepeast on the market
I Want to Sell
League of Legends
Jun-04-2022 15:36:11 PM

11 time(s)

30-Day Seller Performance

New Seller

Member since 2022

Total orders

LOL
boosting reviews

Total rating

LOL
boosting rating

Total orders: 0

Member since: 2022

0.0

League of Legends power-leveling : Seller Rating

(0)
1. Buyer creates order and send payment to PlayerAuctions
2. PlayerGuardian secures payment
3. Seller completes delivery within delivery guarantee
4. Buyer confirm delivery
5. Seller receives disbursement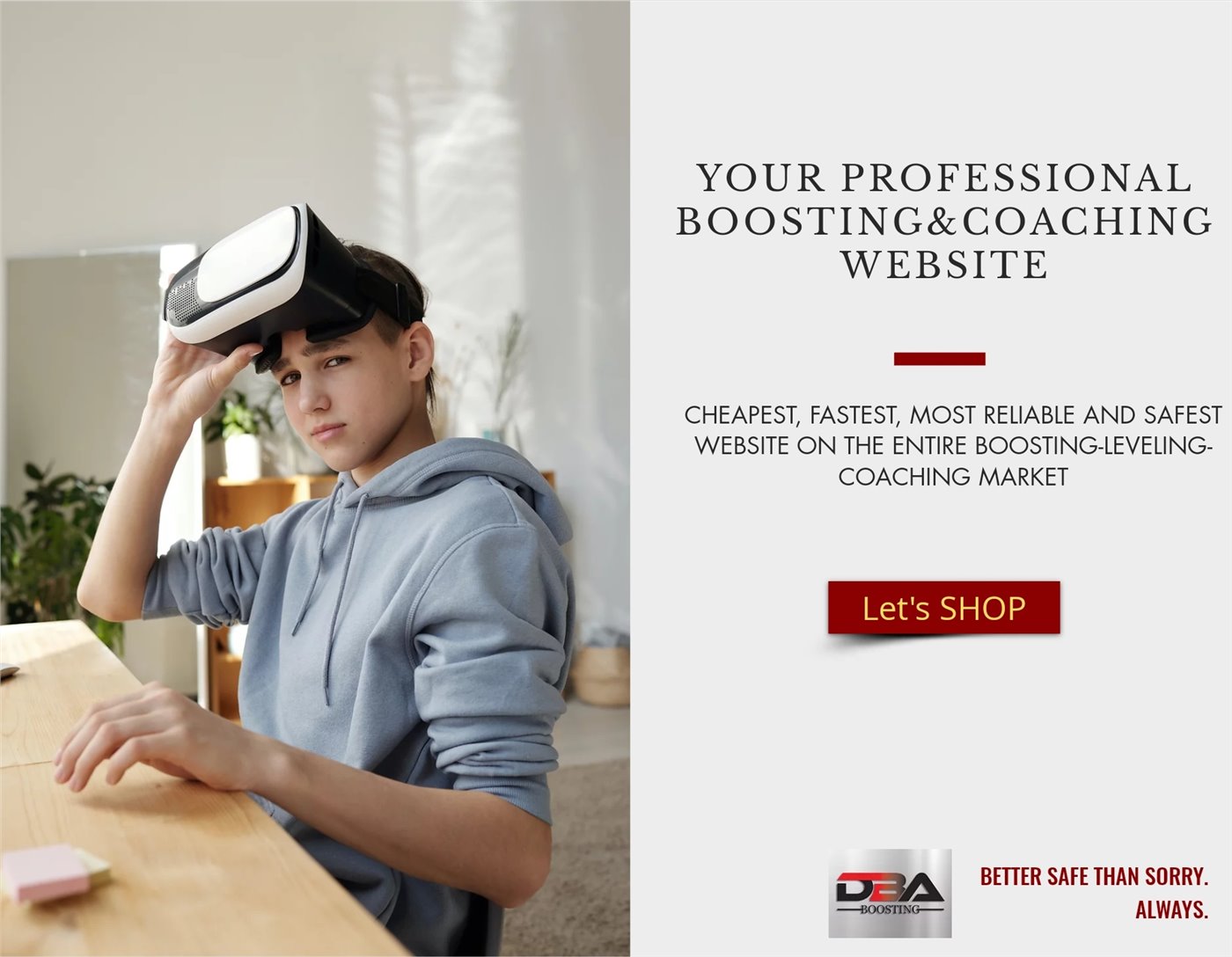 Why DBA?
Top tier professional players as your boosters. Your eyes will be delighted to see the highest gameplay possible performed on your account. We are a young, determined and dedicated team and we do our very best every single time. We let the results speak for themselves, stream the games for free, have the cheapest prices on the market by far, reliable and safe, we are always in continuing communication with our clients, you can always count on us as hardworkers, every component from our team is always in the mindset of outworking everybody else because, as you can imagine, we truly believe that this only way to succeed at the highest level. We want every client that clicks on our site to have a "professionalism aftertaste" when he leaves it.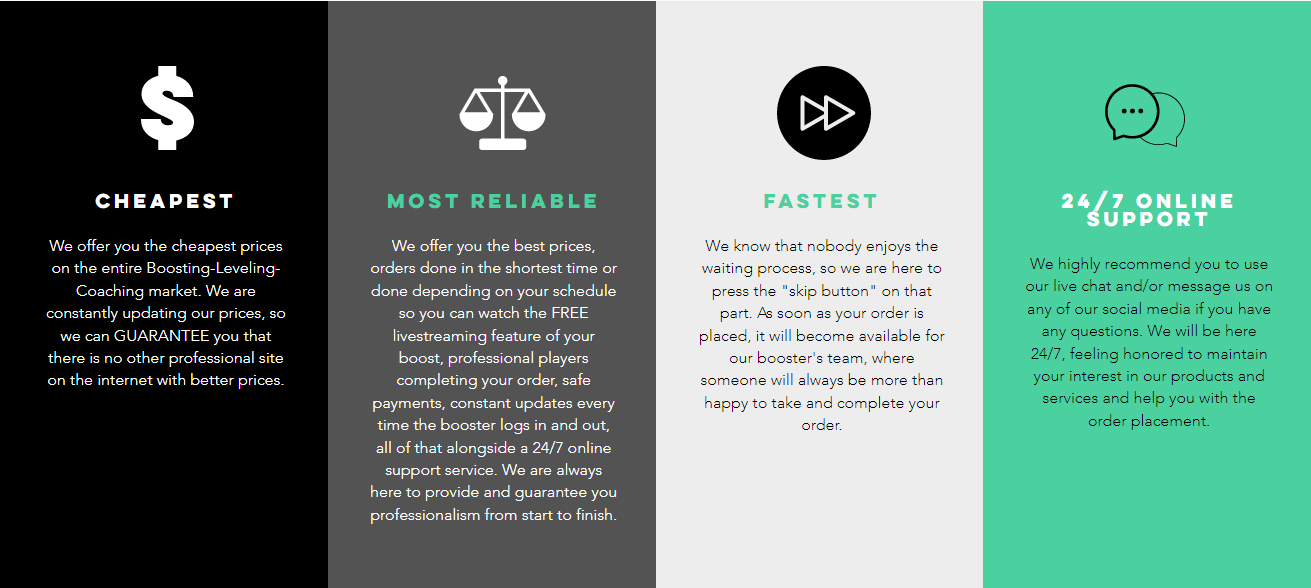 CHEAPEST?
You bet we are, sir! But, we challenge you to prove us wrong: show us another professional boosting website and we will undercut them for you. Check our and our pages at for plenty of reviews and hundreds of results from previous orders that are already completed.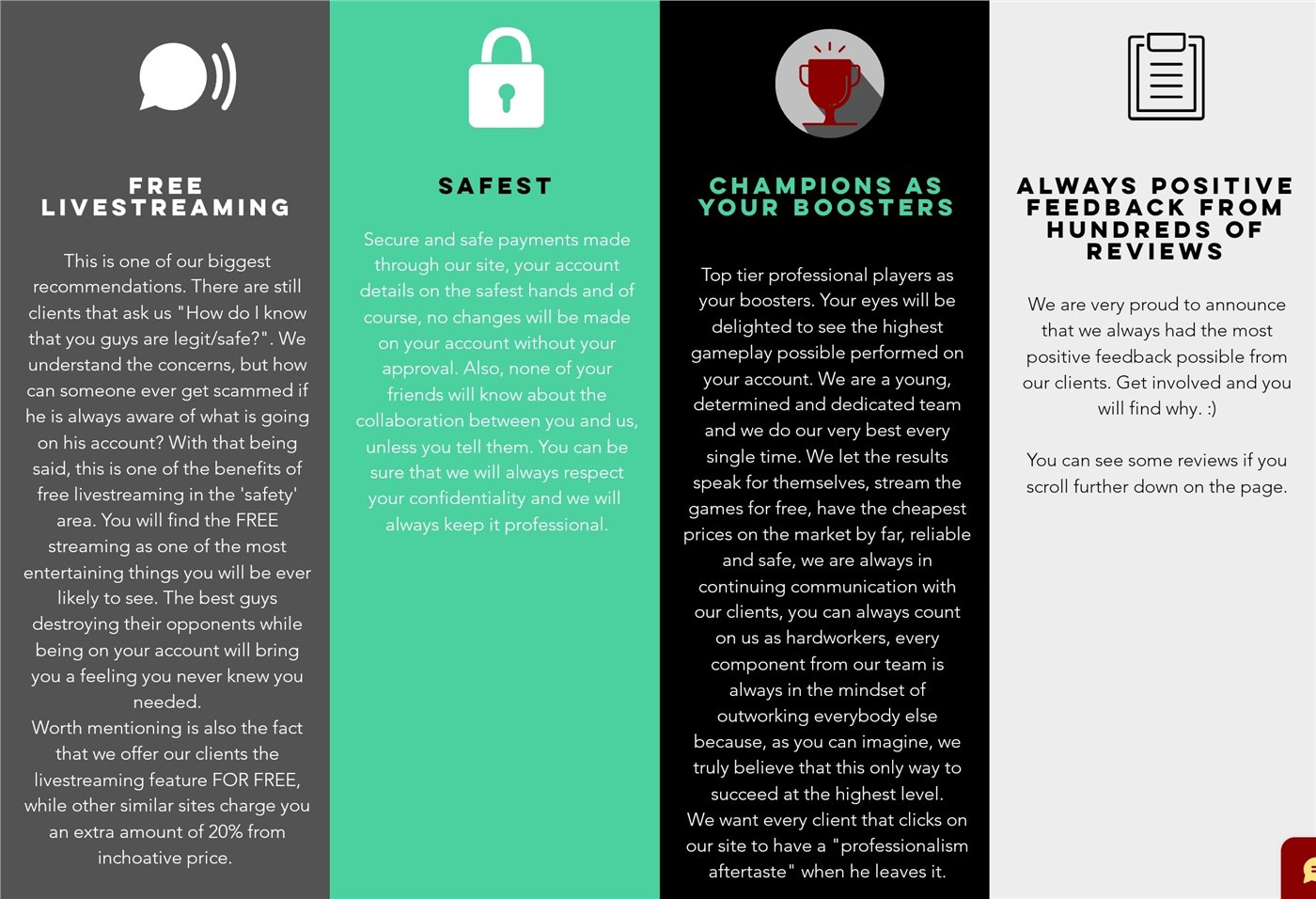 HOW BOOSTING WORKS?
Boosting means that a pro player will log in into your account and play for you in order to achieve what you want (price lists and more in depth details for every game on their specific page). Everything is as easy and as simple as that. We can also stream (only if the client wants to) for free, as most of the other similar as our's don't have this option at all or they charge you another 15% to 40% from the initial price order for streaming.
League of Legends
League of Legends is easily one of the greatest video games that have ever been created! The LoL live-streams of World Championships/Tournaments hit hundreds of thousands of views with ease, summing up perfectly the hype for this game. However, even though we all share our love and passion for League of Legends, it can get the best of us at times: annoying teammates, broken game mechanics, patches that just make things worse, you name it.. Luckily, we are here to give you a hand in those not so pleasant times and not only!
Price list
Ranked Solo/Duo and Flex (Division Boosting)
Iron IV to Iron III -- $5
Iron III to Iron II -- $7
Iron II to Iron I -- $8
Iron I to Bronze IV -- $10
Bronze IV to Bronze III -- $11
Bronze III to Bronze II -- $12
Bronze II to Bronze I -- $15
Bronze I to Silver IV -- $15
Silver IV to Silver III -- $16
Silver III to Silver II -- $16
Silver II to Silver I -- $17
Silver I to Gold IV -- $22
Gold IV to Gold III -- $23
Gold III to Gold II -- $24
Gold II to Gold I -- $25
Gold I to Platinum IV -- $30
Platinum IV to Platinum III -- $31
Platinum III to Platinum II -- $33
Platinum II to Platinum I -- $35
Platinum I to Diamon IV -- $40
Diamond IV to Diamond III -- $100
Diamond III to Diamond II -- $130
Diamond II to Diamond I -- $175
Diamond I to Master -- $250
Ranked Solo/Duo (Win Boosting)
Iron -- $2.50
Bronze -- $3
Silver -- $4
Gold IV -- $5
Gold III -- $5
Gold II -- $6
Gold I -- $6.50
Platinum IV -- $8
Platinum III -- $8.50
Platinum II -- $9
Platinum I -- $10
Diamond IV -- $12
Diamond III -- $15
Diamond II -- $17.50
Diamond I -- $19
Master -- $ 28
Ranked Flex (Win Boosting)
Iron -- $2
Bronze -- $2.50
Silver -- $3.50
Gold IV -- $4
Gold III -- $4
Gold II -- $5
Gold I -- $6
Platinum IV -- $7
Platinum III -- $8
Platinum II -- $8.50
Platinum I -- $9
Diamond IV -- $10.50
Diamond III -- $ 13.50
Diamond II -- $15
Diamond I -- $17.50
Master -- $26
| Feedback | Comment | From Buyer | Time |
| --- | --- | --- | --- |
PlayerAuctions makes it safe to buy from our members by securing your payment and guaranteeing delivery.
Buyer creates order and send payment to PlayerAuctions
PlayerGuardian secures payment
Seller completes delivery within delivery guarantee
Buyer confirm delivery
Seller receives disbursement
Option 1: In-game, Face to Face Delivery
Sellers will select this method of delivery if they intend to meet your character in-game with one of their own characters. Usually a seller will coordinate a time and location in-game to meet your character.
Tips:
Be sure to confirm the time to account for time zone differences
Confirm which Shard or Server the delivery is to take place in case your game world has more than one.
Never, under any circumstances, return gold, item, etc. to the delivery character if ever asked. In the event the seller asks you to, please take A screenshot and report this to PlayerAuctions Customer Support.
Option 2: In-game Mailbox delivery.
Some sellers will select the option to deliver gold or items directly to an in-game mailbox. This option is less popular for larger Games like WoW, but is still viable amongst other games. This option can be convenient for smaller orders because you do not need to coordinate time of delivery.
Low Prices: Prices set by other players or PowerSellers on PlayerAuctions are significantly lower than the high markups you would find on expensive retail sites.
Guaranteed Security: PlayerAuctions is quite simply the most secure place to buy and sell MMO game assets. Through PlayerGuardian, you are 100% guaranteed full and as-described delivery, or your money back.
Reliable Delivery Speed: PlayerAuctions calculates each seller's average delivery speed from the seller's latest successfully completed deliveries, which gives you a clear idea of how fast the seller will deliver your order.
To see how quickly the seller may deliver your order, refer to the seller's delivery guarantee period, which is their promise to complete delivery within a certain timeframe after your payment is securely sent to PlayerAuctions and is successfully verified. Each seller sets their delivery guarantee period independent of PlayerAuctions. In the event that the seller is not able to complete the delivery within their guaranteed time, you may cancel the order without penalty for a hassle-free refund from PlayerAuctions.
PlayerAuctions guarantees that the seller will deliver your order, or your money back. The overwhelming majority of transactions through our site occur successfully. As for the very exceptional cases, you can rest assured that they have been carefully considered by our systems and processes, and we are well prepared to handle them in the rare event that they do occur. Read more.
PlayerGuardian Buyer Protections
PlayerAuctions is the most secure place to buy and sell MMO game assets. Our proprietary security technology, PlayerGuardian, keeps you, your payments, and your trades protected and private. The protections below are provided to all PlayerAuctions buyers.
Guaranteed Payment Security
Convenient & Worry-Free Trading
A Secure, Trusted Trading Community
Guaranteed Full and As-Described Delivery, or Your Money Back
Guaranteed Seller On-Time Delivery, or Your Money Back
Information Privacy
PlayerAuctions After Sale 100% Support Guarantee
Transparent Seller Service Ratings
Bank-Level Data Security
Read more