Buy Gran Turismo 7 Credits – Gran Turismo 7 Currency Market
There are a lot of stats to dive into when players are shopping for their next set of wheels. With over 420 cars available at launch and 60 tracks on which to rev up those engines, gamers are going to need all the Gran Turismo 7 credits they can get to upgrade, dress up, and purchase their dream vehicles!
SELL
Darn! There Are No Offers...But Wait.
Did you know we have over 200 games available for trading? Here are our most popular ones:
Want To Be the First to Sell?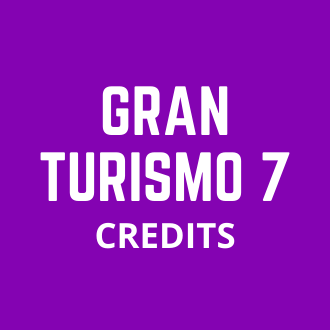 What are Gran Turismo 7 Credits?
Credits, or CR for short, is the main currency that's used in all Gran Turismo games. Players can use it to purchase vehicles, customize their appearance, enter test facilities, upgrade their cars with tuning parts, and perform maintenance. To obtain Credits, one must participate in races – higher place finishes award larger amounts of Credits or unused and prized vehicles.
Note that Credits in Gran Turismo are always roughly based on the local currency in the region in which the game was sold. If buyers bought the Japanese version of Gran Turismo 7, 1 Credit will be equivalent to 1 yen. If they instead bought the North American version, 1 Credit is similar to 1 USD. As for the PAL versions, despite using Australian Dollars, British Pounds, or European Euros (depending on where the player is situated), all of them use the same currency format as the North American versions of GT7.
Where to Spend Credits in Gran Turismo 7
As stated previously, there are numerous ways for players to spend their Credits on GT7, but by far the main reason why players buy in-game currency from marketplaces is to buy more cars. There are more than 60 automobile brands in the game, including vintage vehicles that belong in the '80s and '90s. Plus, since Gran Turismo 7 now has a massive garage that players can take advantage of, they can store up to 1,000 cars free of charge. Considering that there are 420 cars available at launch, players can expect more to be added down the line as the developers update the game. After all, why would they decide to include a garage that can house 1,000 cars if there's not enough of them in the racing sim in the first place?
Looking At the Performance Rating
When players begin their campaign, they'll be given enough in-game Credits to pick up their very first car. The car they buy won't be fast enough to break any lap records, but at the very least, it puts them behind the wheel and gets them racing. Just like in Gran Turismo 6, every car in GT7 has a Performance Points rating. Every car has different weights and levels of engine power and handling, and the Performance Points (PP) ratings are the best way to quickly judge which cars are generally better than others. This means that buyers will more likely purchase vehicles that have higher PP with their Credits.
Using Gran Turismo 7 Credits to Upgrade Cars
Having all the cars in Gran Turismo 7 may indeed be a feat that can't be achieved so easily, but what happens after that? The next step is to upgrade them, of course! Vehicles in GT7, for the most part, are nice to look at, but driving them can be a different thing altogether. This is why players also head over to the Tuning Shop to get their fix of tuning parts. New brakes, suspensions, tires – they've got it all. The shop can fine-tune almost every car in the game, including the "discontinued" variants.
There's also the GT Auto in which players can glam up their car. The original colors and shades of certain vehicles may be up to par for some, but what if they wanted to go for another style? Well, they can certainly make their dream car their own in the GT Auto, as long as they have the necessary Credits to pay for it. There are over 130 wheels and 600 aero parts available in Gran Turismo 7, with more to be added in the future.
As players slowly fill out their collection of classic and modern cars, they'll be needing all the Gran Turismo 7 Credits they can get, especially when they're planning to do some upgrades on all of them. Sellers can provide the in-game currency for these buyers in need; not only are they helping them achieve their goals in the game, but they're also giving other gamers that don't have as much time to farm Credits a chance to own the car of their dreams.
PlayerAuctions makes it safe to buy video game currencies from our members by securing your payment and guaranteeing delivery.
Buyer creates order and send payment to PlayerAuctions
PlayerGuardian secures payment
Seller completes delivery within delivery guarantee
Buyer confirm delivery
Seller receives disbursement
Option 1: In-game, Face to Face Delivery
Sellers will select this method of delivery if they intend to meet your character in-game with one of their own characters. Usually a seller will coordinate a time and location in-game to meet your character.
Tips:
Be sure to confirm the time to account for time zone differences
Confirm which Shard or Server the delivery is to take place in case your game world has more than one.
Never, under any circumstances, return gold, item, etc. to the delivery character if ever asked. In the event the seller asks you to, please take A screenshot and report this to PlayerAuctions Customer Support.
Option 2: In-game Mailbox delivery.
Some sellers will select the option to deliver gold or items directly to an in-game mailbox. This option is less popular for larger Games like WoW, but is still viable amongst other games. This option can be convenient for smaller orders because you do not need to coordinate time of delivery.
Low Prices: Prices set by other players or PowerSellers on PlayerAuctions are significantly lower than the high markups you would find on expensive retail sites.
Guaranteed Security: PlayerAuctions is quite simply the most secure place to buy and sell MMO game assets. Through PlayerGuardian, you are 100% guaranteed full and as-described delivery, or your money back.
Reliable Delivery Speed: PlayerAuctions calculates each seller's average delivery speed from the seller's latest successfully completed deliveries, which gives you a clear idea of how fast the seller will deliver your order.
To see how quickly the seller may deliver your order, refer to the seller's delivery guarantee period, which is their promise to complete delivery within a certain timeframe after your payment is securely sent to PlayerAuctions and is successfully verified. Each seller sets their delivery guarantee period independent of PlayerAuctions. In the event that the seller is not able to complete the delivery within their guaranteed time, you may cancel the order without penalty for a hassle-free refund from PlayerAuctions.
PlayerAuctions guarantees that the seller will deliver your order, or your money back. The overwhelming majority of transactions through our site occur successfully. As for the very exceptional cases, you can rest assured that they have been carefully considered by our systems and processes, and we are well prepared to handle them in the rare event that they do occur. Read more.
PlayerGuardian Buyer Protections
PlayerAuctions is the most secure place to buy and sell MMO game assets. Our proprietary security technology, PlayerGuardian, keeps you, your payments, and your trades protected and private. The protections below are provided to all PlayerAuctions buyers.
Guaranteed Payment Security
Convenient & Worry-Free Trading
A Secure, Trusted Trading Community
Guaranteed Full and As-Described Delivery, or Your Money Back
Guaranteed Seller On-Time Delivery, or Your Money Back
Information Privacy
PlayerAuctions After Sale 100% Support Guarantee
Transparent Seller Service Ratings
Bank-Level Data Security
Read more
PlayerAuctions is an independent player-to-player marketplace for buying and selling virtual video game property. PlayerAuctions is NOT endorsed by, directly affiliated with, maintained, authorized, or sponsored by Gran Turismo 7 or its trademark owner.
Select server and Faction