Buy FFXIV Gil - Final Fantasy XIV Currency Market
Player's want to prepare for FFXIV Endwalker but often find themselves with lacking the Gil to to experience everything the expansion has to offer. In that case, buyers should treat themselves to some well-deserved FFXIV Gil. Players should have enough gil so that they can buy a full set of Scaeven for their Reaper and Sage so they can keep one step ahead of the pack and start the new expansion on the right foot.
Latest News: An FFXIV Table Top RPG is coming in May 2024, which gives players the chance to explore the world of Eorzea even without an internet connection.
SELL
MINIgold1
202022970
Best deal among sellers with a fair amount of ratings and feedback score.
MINIgold1
202022989
Best deal among sellers with a fair amount of ratings and feedback score.
MINIgold1
202022992
Best deal among sellers with a fair amount of ratings and feedback score.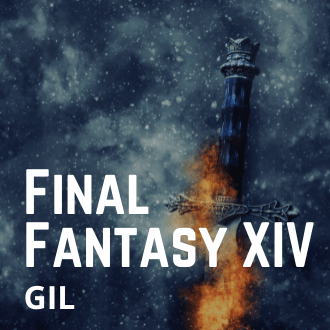 Getting Cheap Final Fantasy XIV Gils
Any Final Fantasy XIV: A Realm Reborn player knows the truth: Gil is hard to earn in-game. As such it is easy to waste time farming Final Fantasy XIV Gil. Having extra help such as getting FFXIV Gil is a time saver for many players.
Why Buy FFXIV Gil
Wouldn't it be great if players could farm FFXIV in a single afternoon and get a chance to actually play the game? Unfortunately, that's not possible these days. Every year, more and more online games force players to play their game for hours just to farm up on currency. The time and energy spent on these games just to get some currency is oftentimes boring to most players, simply because they're doing the same process over and over again. As a result, gamers miss out on a Trial or a FATE simply because of this.
Gil Farming in FFXIV
Gil is the standard currency in every Final Fantasy game, and FFXIV is no exception. Gil is commonly referred to as gold and can be acquired in a number of ways in Final Fantasy XIV. For starters, players can farm Gil by simply killing monsters. Monsters drop the currency almost every time, but it can be tedious for some. One of the most well known ways of farming Gil is by doing missions/completing quests. Quests and missions on FFXIV are abundant—there's always an NPC that's looking for players to do them some favors. Whether it be a fetch quest or a kill quest, these missions net tons of Gil for players and even special items that they can either equip or combine with their other materia. Another common way of farming Gil is by entering dungeons. Dungeons in FFXIV are dangerous and players must not explore in one unless they are well prepared. Most of the time, gamers go into these dungeons with a party to assist them and the game inevitably divides the rewards later on once they have finished their exploration.
How Should Players Spend FFXIV Gil?
FFXIV has fewer gold sinks (relatively speaking) than other MMOs, an adage about the game is that it respects your time, and the same is true of ways to spend your gil. That being said, there are no shortage of options for the motivated buyer and we've listed just a few of them below:
Mounts

FFXIV has no shortage of glamorous mounts to spend gil on. While the prices never quite reach the heights of other MMOs (I'm looking at you WoW), there's no denying that the costs can get high but, oh, is it worth it to travel around in style. Once a player reaches rank four reputation with the original tribes, such as the Amalj'aa or the Kobold, they will get access to tribe specific mounts. A Calvary Drake, Laurel Gobbue, Bomb Palanquin, Cavalry Elbst will also set a buyer back 120k gil. The Direwolf, Cloud Mallow, Kongamato, and the Sanuwa will cost 200k gil.

Food

Having a sufficient stash of food is critical for players, any type grants a 3% exp buff for 30 minutes, which adds up overtime and makes the grind somewhat more bearable. Food can be bought in any of the major settlements or cities, typically located in the market area. The best vendors for food can be found in Foundation, Ishgard. If a player has enough food to be constantly refreshing the exp buff, they'll find the leveling experience goes by much quicker.

Housing

One of the most popular aspects of FFXIV is player housing. Players can buy a house with their Free Company or by themselves. These properties can be decorated as the player likes and have some in-game utility, such as Gardening. Free Company estates are required to build Free Company Airships. Housing in FFXIV is divided into separate wards, these are: The Mist in Limsa Lominsa, Lavender Beds in Gridania, The Goblet in Ul'dah, and Shirogane in Kugane. It goes without saying, however that pricing can become exorbitant. For a Large First-class Plot, the base price is 50 million Gi, in addition to 3,000,000 for the Housing permit.

Pre-raid item sets

Much like other MMO's there are no shortage of itemization options when it comes to building the absolute best character, and there's plenty for min-maxers to sink their teeth into. That being said, for players to get off to the absolute best start when it comes to end-game content its critical to make preparations even before you start, to that end, great armor, weapons and accessories can be purchased from the Market Board, meaning players aren't forced to do trials or dungeons to get access to powerful builds. Sets like the Exarchic Armor, Facet Armor, or Neo-Ishgardian Armor provide an immediate power-boost to players without forcing them to break the bank-depending on server prices.

Glamours

Many players joke that the true FFXIV end-game is glamour and there's certainly no shortage of fun when it comes to making your character look as beautiful, color-coordinated, and stylish as possible. Since glamours can be shared across jobs, investing in them for eye-candy purchases are never a bad investment, some choice glamours include: Neo-Isghardian Armour, Elemental Armor or Quan, The Quan silky trousers will set a player back 400,000 gil, which is a fair deal considering how gorgeous they look.
Based on the total ratings of 19350 orders in the past year
PlayerAuctions makes it safe to buy video game currencies from our members by securing your payment and guaranteeing delivery.
Buyer creates order and send payment to PlayerAuctions
PlayerGuardian secures payment
Seller completes delivery within delivery guarantee
Buyer confirm delivery
Seller receives disbursement
Option 1: In-game, Face to Face Delivery
Sellers will select this method of delivery if they intend to meet your character in-game with one of their own characters. Usually a seller will coordinate a time and location in-game to meet your character.
Tips:
Be sure to confirm the time to account for time zone differences
Confirm which Shard or Server the delivery is to take place in case your game world has more than one.
Never, under any circumstances, return gold, item, etc. to the delivery character if ever asked. In the event the seller asks you to, please take A screenshot and report this to PlayerAuctions Customer Support.
Option 2: In-game Mailbox delivery.
Some sellers will select the option to deliver gold or items directly to an in-game mailbox. This option is less popular for larger Games like WoW, but is still viable amongst other games. This option can be convenient for smaller orders because you do not need to coordinate time of delivery.
Low Prices: Prices set by other players or PowerSellers on PlayerAuctions are significantly lower than the high markups you would find on expensive retail sites.
Guaranteed Security: PlayerAuctions is quite simply the most secure place to buy and sell MMO game assets. Through PlayerGuardian, you are 100% guaranteed full and as-described delivery, or your money back.
Reliable Delivery Speed: PlayerAuctions calculates each seller's average delivery speed from the seller's latest successfully completed deliveries, which gives you a clear idea of how fast the seller will deliver your order.
To see how quickly the seller may deliver your order, refer to the seller's delivery guarantee period, which is their promise to complete delivery within a certain timeframe after your payment is securely sent to PlayerAuctions and is successfully verified. Each seller sets their delivery guarantee period independent of PlayerAuctions. In the event that the seller is not able to complete the delivery within their guaranteed time, you may cancel the order without penalty for a hassle-free refund from PlayerAuctions.
PlayerAuctions guarantees that the seller will deliver your order, or your money back. The overwhelming majority of transactions through our site occur successfully. As for the very exceptional cases, you can rest assured that they have been carefully considered by our systems and processes, and we are well prepared to handle them in the rare event that they do occur. Read more.
The word "WoW Clone" is thrown around every day at almost every MMO in the industry with reckless abandon. When Final Fantasy XIV: A Realm Reborn first came out, people flocked to it due to its excellent graphical quality and the strength and power of Square Enix's name, but plenty of players still called it a WoW clone.
Worse still, it was generally seen as an "incomplete mess" at the time of launch. So badly reviewed at its launch, FFXIV ran into serious problems with its fan base and industry viewers alike. There was at first a huge backlash from the gamer community because of systems in the game that were not typical for the MMO genre. Square Enix, FFXIV's developer, did a huge turnaround with the game, making sweeping changes to the development staff and overall direction of the game. But this wasn't seen as enough to salvage the game's critical server and game design flaws, and it was deemed necessary to completely re-build the game from scratch in order to regain player trust.
This is significant in the landscape of gaming history, because there has never been any precedent of a major game property, or developer effectively pulling the plug on a title and deciding to completely re-do it (many to this day wished this had been done with Star Trek Online).
Killing FFXIV and transitioning it into Rebirth Mode:
In 2011 it was decided to create a clever transition between FFXIV in its original incarnation, and the rebuild that was to come two short years later. Square Enix developed into the title major boss battles and a storyline to compliment the need for the closure of that universe, and the wait for a new system to be released later. In-game, within the lore, it was coined as the "Seventh Umbral Era" which was effectively built into the lore, the reasons for the coming radical changes to be showcased within FFXIV: A REALM REBORN.
The radical changes in the environment for FFXIV, especially the FFXIV gil trading space, was easily reflected in many platforms. Its predecessor, FFXI, was 6x larger than FFXIV's release. In contrast, when FFXIV re-launched as A Realm Reborn, the re-launched game was doing 3x MORE than FFXI ever in a weekly average, and close to 20x larger than FFXIV in its first incarnation.
This tells us that FFXIV in its first iteration was not conducive to having a complimentary in-game economy. This was one of the greatest complaints on launch day, the confusing Market system, the inconvenience factor in finding trade outlets, and the individual store system was a mess.
But after FFXIV launched with A Realm Reborn, gil markets soared because of the job system, and the heavily player influenced in-game economy (with SO many items craftable, and consumables necessary to competitive gameplay).
Just how did the gameplay improve exactly?
Why and how? Is it because of similar systems like the tab-targeting combat, raiding concepts, and the ever-reliable holy trinity? As the years passed, FFXIV has proved that it is more than that and has established a firm base in the MMO landscape as one of the best AAA games available.
FXIV features the unique class mechanic of players being able to use all the classes in the game on a single character. There is no need for alts because players can opt to change classes on the fly out of combat and outside of instances. This way, players can easily adjust to what is needed in a party or raid group, taking out the hassles of modern day MMO gaming, which can lack roles for group content. Need a powerful melee DPS? A party will do well with a p;ayer as a Dragoon. Need a strong healer? The bursty heals of the White Mage is the meal ticket. What about a tank? The noble Paladin is within a player's reach at the click of your mouse.
Some people daresay that, even with all the conveniences FFXIV has to offer, raiding, the highlight of the game's PvE is one of the hardest experiences anybody will ever encounter in an MMO. With fights as difficult as this at its core, like Turn 2 ADS or Alexander: Midas, FFXIV offers a lot of hardcore raid fights that will test the synergy, chemistry, and limits of every raid group. Players will wipe out a lot and it may become frustrating, but once they get through a raid, it'll be the most satisfying feeling ever. Some critics would even go far as to claim that FFXIV raiding is pretty much the Dark Souls of MMO gaming. This is a game that will be very hard to keep on pugging; it's best to make a group of their own that will learn together.
Gamers are proud to support FFXIV and applaud Square Enix on the turnaround:
Gamers alike find huge satisfaction with games that have player driven economies, and allow them a sense of prestige and fiscal competitiveness. For years, it's always been the great keyword behemoth for Final Fantasy: FFXIV Gil. Today, player to player trading market is alive and well, and hasn't shown any signs of decrease. On the contrary, the health of player trading digital assets is generally a sign of a game's overall subscription health. WoW trading volume declines proportionately, with Blizzard's reports on subscription numbers. And everyone's favorite space sandbox, EVE, has also seen its growth in player trading increase over time as its base has continued to expand. For a theme park MMO like FFXIV, players are glad to see a healthy FFXIV gil market, and FFXIV item market.
Buying FF14 Gil The Safe Way
In any game, staying competitive is important. And as many of the industry's gaming demographic grows older, have families, and generally have less time to game, the only way for people who are poor in time as a resource to compete would be to make sure they keep an edge by making sure their gil wallets are appropriately stocked. The best possible solution is to get scouted by a strong and active raiding guild that hopes to conquer all PvE aspects of FFXIV. However, it can sometimes be hard to be accepted into guilds like these; "players need the gear already" is a common push back from the top guild leaders. The classic chicken or the egg scenario "Players need good gear for the best raids, but they need to do the best raids, to get the best gear". Don't be disadvantaged because NO one plays to lose. Everyone plays to win, so it's important to keep oneself up to date, and purchase the gear they need at a bare minimum to be able to play with their friends.

More often than not, people will look for members for their guilds or their pug groups that already have high-end gear; gear that comes from those very same instances that gamers want to farm. It's a little absurd, yes, but that's really how the gaming landscape looks at present. This is not only unique to FFXIV, but also found in other AAA MMOs like WoW, SWTOR, and TERA.

It's a bit unfair, but there are ways around this gear barrier. First off, players could get into FFXIV's obscenely complicated and time-consuming crafting system in order to get gear comparable with some preliminary raids. But, not only does this take a lot of time, it also makes use of a lot of crafting materials that are either very expensive or also time-consuming to gather.

Compounded with this is the problem with obtaining the ever-important Materia. For those that don't know, getting material involves spirit bonding with pieces of equippable gear and then disenchanting them to become a RANDOM piece of materia. There is no way to control what a player gets there except for the level of the material being tied to the level of the equipment. This means that gamers have to waste a ton of time breaking their spirit bonded equipment for a chance for a random piece of material. Sometimes, this activity becomes futile and pointless due to bad RNG.

Things would be much easier if players could just buy all that competitive, craftable raid gear and material so that they could have a shot at getting into a group for the REAL high-end gear. There are many player to player marketplaces that sell currencies not just for FFXIV, but for other games as well. However, buyers must make sure to always check who they are dealing with and the terms of service of the game in order to find out more about it. Buyers can also contact the game's publisher for information.

"
PlayerGuardian Buyer Protections
PlayerAuctions is the most secure place to buy and sell MMO game assets. Our proprietary security technology, PlayerGuardian, keeps you, your payments, and your trades protected and private. The protections below are provided to all PlayerAuctions buyers.
Guaranteed Payment Security
Convenient & Worry-Free Trading
A Secure, Trusted Trading Community
Guaranteed Full and As-Described Delivery, or Your Money Back
Guaranteed Seller On-Time Delivery, or Your Money Back
Information Privacy
PlayerAuctions After Sale 100% Support Guarantee
Transparent Seller Service Ratings
Bank-Level Data Security
Read more
PlayerAuctions is an independent player-to-player marketplace for buying and selling virtual video game property. PlayerAuctions is NOT endorsed by, directly affiliated with, maintained, authorized, or sponsored by Final Fantasy XIV or its trademark owner.
Select server and Faction