Fallout 76-PS4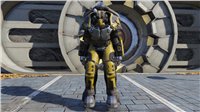 Jun-03-2022 13:25:11 PM

11 time(s)

24 Hours

Lvl 1

30-Day Seller Performance

Seller Lvl 1
Member since 2021

Total orders

Fallout 76
items reviews

Total rating

Fallout 76
items rating

Total orders: 79

Member since: 2021

5.0

Fallout 76 items : Seller Rating

(33)
$ 10.00
Buy 0 Power armor
and get 0 off!
1. Buyer creates order and send payment to PlayerAuctions
2. PlayerGuardian secures payment
3. Seller completes delivery within delivery guarantee
4. Buyer confirm delivery
5. Seller receives disbursement
* Open everyday. ✔️
You will get a full modified set of X-01 Power Armor. This Power Armor can be level 40 or 50.
Available modifications:
HELMET
* Internal Database: Increases Intelligence.
* Sensor Array: Increases Perception.
* VATS Matrix Overlay: Increases VATS hit chance.
* Recon Sensors: Sighted aiming marks enemies with a compass pip.
* Targeting HUD: Visor highlights living targets. (recommended)
* Headlamp: Blue, Bright, Purple, Red Tactical and Vault Boy.
ARMS
* Optimiced Bracers: Reduces Action Point cost for Power Attacks. (recommended)
* Hydraulic Bracers: Increases unarmed damage.
* Rusty Knuckles: Unarmed attacks cause bleeding damage.
* Tesla Bracers: Adds Energy damage to Unarmed attacks.
LEGS
* Explosive Vent: Increases damage radius for Impact Landing.
* Kinetic Servos: Increases Action Point refresh speed while moving.
* Optimized Servos: Reduces Action Point cost for sprinting.
* Overdrive Servos: Increases Sprint speed at additional Action Point cost.
* Calibrated Shocks: Increases Carry Weight capacity. (recommended)
TORSO
* Core Assembly: Increases Action Point refresh speed.
* Medic Pump: Detects hits during combat and automatically uses a Stimpak when health is low.
* Blood Cleanser: Reduces chance for addiction from drugs.
* Kinetic Dynamo: Taking damage recharge Action Points.
* Emergency Protocols: Below 20% health, speed increases 25% and incoming damage is reduced 50%.
* Jet Pack: Enables jet-assisted boost while jumping. (recommended)
* Motion-Assist Servos: Increases Strength.
* Reactive Plates: Reflects 50% of melee damage back on attacker.
* Stealth Boy: Activates stealth field while crouched.
* Tesla Coils: Deals Energy Damage to nearby enemies.
* Paint: Military paint, Nuka-Cola Quantum paint and Scorched paint.
Notes:
* Fast delivery if I'm online.
* I will send you a message to coordinate the delivery.
* If you have any questions or inquiries, please don't hesitate to contact me.

* Business hours:
Pacific Time - 07:00AM - 11:00PM
Mountain Time - 08:00AM - 00:00AM
Central Time - 09:00AM - 01:00 AM
Eastern Time - 10:00AM - 02:00AM
| Feedback | Comment | From Buyer | Time |
| --- | --- | --- | --- |
PlayerAuctions makes it safe to buy from our members by securing your payment and guaranteeing delivery.
Buyer creates order and send payment to PlayerAuctions
PlayerGuardian secures payment
Seller completes delivery within delivery guarantee
Buyer confirm delivery
Seller receives disbursement
Option 1: In-game, Face to Face Delivery
Sellers will select this method of delivery if they intend to meet your character in-game with one of their own characters. Usually a seller will coordinate a time and location in-game to meet your character.
Tips:
Be sure to confirm the time to account for time zone differences
Confirm which Shard or Server the delivery is to take place in case your game world has more than one.
Never, under any circumstances, return gold, item, etc. to the delivery character if ever asked. In the event the seller asks you to, please take A screenshot and report this to PlayerAuctions Customer Support.
Option 2: In-game Mailbox delivery.
Some sellers will select the option to deliver gold or items directly to an in-game mailbox. This option is less popular for larger Games like WoW, but is still viable amongst other games. This option can be convenient for smaller orders because you do not need to coordinate time of delivery.
Low Prices: Prices set by other players or PowerSellers on PlayerAuctions are significantly lower than the high markups you would find on expensive retail sites.
Guaranteed Security: PlayerAuctions is quite simply the most secure place to buy and sell MMO game assets. Through PlayerGuardian, you are 100% guaranteed full and as-described delivery, or your money back.
Reliable Delivery Speed: PlayerAuctions calculates each seller's average delivery speed from the seller's latest successfully completed deliveries, which gives you a clear idea of how fast the seller will deliver your order.
To see how quickly the seller may deliver your order, refer to the seller's delivery guarantee period, which is their promise to complete delivery within a certain timeframe after your payment is securely sent to PlayerAuctions and is successfully verified. Each seller sets their delivery guarantee period independent of PlayerAuctions. In the event that the seller is not able to complete the delivery within their guaranteed time, you may cancel the order without penalty for a hassle-free refund from PlayerAuctions.
PlayerAuctions guarantees that the seller will deliver your order, or your money back. The overwhelming majority of transactions through our site occur successfully. As for the very exceptional cases, you can rest assured that they have been carefully considered by our systems and processes, and we are well prepared to handle them in the rare event that they do occur. Read more.
PlayerGuardian Buyer Protections
PlayerAuctions is the most secure place to buy and sell MMO game assets. Our proprietary security technology, PlayerGuardian, keeps you, your payments, and your trades protected and private. The protections below are provided to all PlayerAuctions buyers.
Guaranteed Payment Security
Convenient & Worry-Free Trading
A Secure, Trusted Trading Community
Guaranteed Full and As-Described Delivery, or Your Money Back
Guaranteed Seller On-Time Delivery, or Your Money Back
Information Privacy
PlayerAuctions After Sale 100% Support Guarantee
Transparent Seller Service Ratings
Bank-Level Data Security
Read more