Fallout 76 Caps – FO76 Bottle Cap Market
Go on an adventure through the country roads and rebuild the lost civilization of West Virginia in Fallout 76. But first, you have to get started on gathering your Fallout 76 caps. In post-apocalyptic America, survival skills are paramount, but having caps won't hurt. Trade with the best online sellers and get your fill of caps! Good luck, Vault Dweller!
SELL
playerfirst
194218662
Best price among sellers with a fair amount of ratings and feedback score.
applegold
194585590
Best price among sellers with a fair amount of ratings and feedback score.
Pollypr1ssypant
193726583
Tarkov-shop2020
194265953
playerfirst
194568054
Best price among sellers with a fair amount of ratings and feedback score.
playerfirst
194568063
Best price among sellers with a fair amount of ratings and feedback score.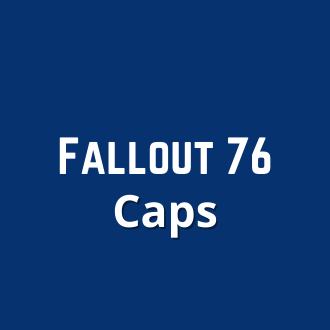 Why Buyers Buy Fallout 76 Caps
Maybe they're having trouble finding something that sells. Otherwise, their competition could be too good and they can't carve out a niche on the market for themselves. Or maybe they're just really down on their luck. No matter what the reasons are, caps are important to any Vault Dweller.
Farming caps takes time and effort. You have to actively search for things to sell to other players or find stashes across the Wasteland. If you're busy with work or studies, you can't spend your time playing to earn caps. You'll just want to have fun and not worry about your in-game riches.
There's no faster way to get Fallout 76 Caps other than the player-to-player online marketplace. Buyers just have to find a trustworthy seller and make a trade. Of course, the convenience comes at a price of real world money.
Be aware that player-to-player trading carries an inherent risk, even if the marketplace tries its best to be secure. Contact the game's publisher or consult its policies and terms for an insight to possible consequences and actions you can take. You may even ask the help of legal professionals to clarify any concerns that may arise.
Good luck on your travels across the Wasteland, Vault Dweller!
Based on the total ratings of 1580 orders in the past year
Very easy to work with
40 K Fallout-76 Caps
06/03/2023
Super fast delivery
40 K Fallout-76 Caps
06/03/2023
Zero issues and easy to work with
40 K Fallout-76 Caps
06/03/2023
Quick to receive the order
40 K Fallout-76 Caps
06/02/2023
PlayerAuctions makes it safe to buy video game currencies from our members by securing your payment and guaranteeing delivery.
Buyer creates order and send payment to PlayerAuctions
PlayerGuardian secures payment
Seller completes delivery within delivery guarantee
Buyer confirm delivery
Seller receives disbursement
Option 1: In-game, Face to Face Delivery
Sellers will select this method of delivery if they intend to meet your character in-game with one of their own characters. Usually a seller will coordinate a time and location in-game to meet your character.
Tips:
Be sure to confirm the time to account for time zone differences
Confirm which Shard or Server the delivery is to take place in case your game world has more than one.
Never, under any circumstances, return gold, item, etc. to the delivery character if ever asked. In the event the seller asks you to, please take A screenshot and report this to PlayerAuctions Customer Support.
Option 2: In-game Mailbox delivery.
Some sellers will select the option to deliver gold or items directly to an in-game mailbox. This option is less popular for larger Games like WoW, but is still viable amongst other games. This option can be convenient for smaller orders because you do not need to coordinate time of delivery.
Low Prices: Prices set by other players or PowerSellers on PlayerAuctions are significantly lower than the high markups you would find on expensive retail sites.
Guaranteed Security: PlayerAuctions is quite simply the most secure place to buy and sell MMO game assets. Through PlayerGuardian, you are 100% guaranteed full and as-described delivery, or your money back.
Reliable Delivery Speed: PlayerAuctions calculates each seller's average delivery speed from the seller's latest successfully completed deliveries, which gives you a clear idea of how fast the seller will deliver your order.
To see how quickly the seller may deliver your order, refer to the seller's delivery guarantee period, which is their promise to complete delivery within a certain timeframe after your payment is securely sent to PlayerAuctions and is successfully verified. Each seller sets their delivery guarantee period independent of PlayerAuctions. In the event that the seller is not able to complete the delivery within their guaranteed time, you may cancel the order without penalty for a hassle-free refund from PlayerAuctions.
PlayerAuctions guarantees that the seller will deliver your order, or your money back. The overwhelming majority of transactions through our site occur successfully. As for the very exceptional cases, you can rest assured that they have been carefully considered by our systems and processes, and we are well prepared to handle them in the rare event that they do occur. Read more.
What are Caps in Fallout 76?
In the post-apocalyptic retro-America, bottle caps, caps for short, became the primary currency of the land. In-game, it came about because of three reasons. One, there was a relative scarcity of it. Two, most of the bottle cap manufacturing technology was lost in the Great War. Three, there is a limited amount of it. All these reasons caused the Wasteland's economy to be built on caps.
Fallout 76: What are Caps Used For?
As a currency, it is used for barter and payment for services. In past games, (that are placed chronologically after FO76) players use caps to buy goods, have their attributes improved, hire mercenaries, bribe guards, and more. Judging from the pattern it should be the same for FO76.
There's one thing that's different about 76 though. That's the lack of NPCs in the world. When you're stuck with holotapes and robots, there are few ways to spend your caps. It makes sense, being chronologically first in the series. As far as the lore is concerned, the players are the ones who rebuilt civilization.
Is There a Cap Limit?
Yes, and it's set quite low at 25,000. With a cap trading limit of 5,000, that's a pretty bad combination for trading high-value things. It's a problem the players want to be addressed, though other more pressing matters may come first. Still, it's in the way of a true player-driven economy like Bethesda wanted, and an inconvenience as well. Time will tell how it will improve or not.
No matter how or when this gets improved, we hope you'll continue enjoying Fallout 76!
PlayerGuardian Buyer Protections
PlayerAuctions is the most secure place to buy and sell MMO game assets. Our proprietary security technology, PlayerGuardian, keeps you, your payments, and your trades protected and private. The protections below are provided to all PlayerAuctions buyers.
Guaranteed Payment Security
Convenient & Worry-Free Trading
A Secure, Trusted Trading Community
Guaranteed Full and As-Described Delivery, or Your Money Back
Guaranteed Seller On-Time Delivery, or Your Money Back
Information Privacy
PlayerAuctions After Sale 100% Support Guarantee
Transparent Seller Service Ratings
Bank-Level Data Security
Read more
PlayerAuctions is an independent player-to-player marketplace for buying and selling virtual video game property. PlayerAuctions is NOT endorsed by, directly affiliated with, maintained, authorized, or sponsored by Fallout 76 or its trademark owner.
Select server and Faction