Buy EverQuest Platinum - EQ Currency Market
EverQuest Platinum is the pure power that players always need, especially if they're planning on hiring mercenaries to help deal with a specific instance. Much like in every MMORPG, having enough currency is crucial if a player wants to get the best gear that Everquest has to offer. Plus, the trading scene is very much active, making it the perfect place to learn how to buy and sell items for more Platinum!
SELL
z00mies
201965353
Best deal among sellers with a fair amount of ratings and feedback score.
eqshadowfax
201207827
Best deal among sellers with a fair amount of ratings and feedback score.
Qman
200851155
Best deal among sellers with a fair amount of ratings and feedback score.
z00mies
201943205
Best deal among sellers with a fair amount of ratings and feedback score.
eqshadowfax
201207831
Best deal among sellers with a fair amount of ratings and feedback score.
eqshadowfax
201207832
Best deal among sellers with a fair amount of ratings and feedback score.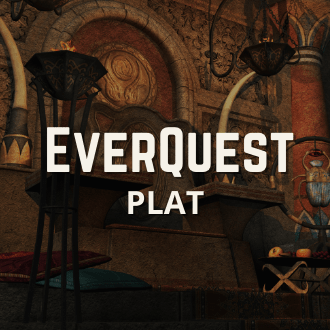 Everquest Currencies
There are many currencies in Everquest, but none are as important as Platinum and its smaller denominations (Gold, Silver, and Copper). These currencies have various uses and methods to obtain them, though their basic use is still to be exchanged for goods or services. Some of them are tradeable to other players, but a good majority are not.
Still, this page is about Platinum and its denominations. It's the main currency of the game and will be the most used currency of all. It's the one used for most NPC vendor interactions, as well as various other services.
The denomination breakdown is as follows:
10 Copper is 1 Silver
10 Silver is 1 Gold
10 Gold is 1 Platinum
Following that, 100 Copper is 1 Gold, and 1000 Copper is 1 Platinum. That makes it so easy to calculate prices in Copper, as the numeral's place denotes the denomination. If something costs 16 Platinum, 5 Gold, 8 Silver, and 4 Copper, that's just 16,584 Copper in total.
Don't get confused, as EverQuest 2 uses a different breakdown system with hundreds instead of tens.
Many activities reward this currency in some way. Fighting monsters, doing quests, and sometimes even event tasks reward it. However, the last one might reward some other currency instead. Alternative ways of earning it could be flipping items in the Bazaar or offering services to other players. Still, that's going to take some time before getting the amount needed.
Why Buy Everquest Plat
One of the main reasons to do so is to upgrade equipment. While some drops from enemies can be good replacements, player-crafted ones can end up better in the long run. Buyers should consider good deals as they see them, as later, another player may have beat them to it. By buying Everquest Plat, they make sure they always have plat on hand to buy what they need.
Another reason to buy Everquest plat is it's quick and convenient. Farming takes days or weeks to pay off. Most of the time, players don't have that kind of time to spend on the game. This process takes a few minutes at most, and afterward, buyers can enjoy having everything they need or want.
There could be many other reasons why buyers prefer this method of getting Plats, but these two are the main ones. It makes everything faster, easier, and simpler.
Best Prices for EverQuest Platinum!
EverQuest is one of the oldest MMORPGs around. While it has not changed much down the years, farming EverQuest Platinum is still time-consuming and boring. Buyers could get with the times and stop wasting their hours grinding. Through any marketplace, they can buy EverQuest Platinum. In just a few clicks their Paladin will finally have all the Platinum it needs to buy items for the Relic Set. Buyers may find the lowest prices for EverQuest Platinum Online if they take the time to look at different offers.
How EQ Plat Can Help
Not only is farming EverQuest Titanium and Platinum boring, but it takes a lot of time. Time that students or employees do not have. The main consideration to make here is if it's worth the buyer's time to grind or farm—instead of just buying Platinum. When purchasing Platinum from the marketplace, buyers may save time and effort. Gamers could very well earn good grades and still be the most powerful Paladin around.
Before trying to participate in player-to-player trading, be aware of the possible risks and consequences first. Consult the game's policies or seek legal counsel. It's also possible to contact the game's publisher for clarification. Keep safe while trading!
Keep enjoying EverQuest!
Based on the total ratings of 745 orders in the past year
Appreciate the service.
15000 K EverQuest Plat
11/27/2023
Super fast delivery. Great service! A++++
40000 K EverQuest Plat
11/27/2023
PlayerAuctions makes it safe to buy video game currencies from our members by securing your payment and guaranteeing delivery.
Buyer creates order and send payment to PlayerAuctions
PlayerGuardian secures payment
Seller completes delivery within delivery guarantee
Buyer confirm delivery
Seller receives disbursement
Option 1: In-game, Face to Face Delivery
Sellers will select this method of delivery if they intend to meet your character in-game with one of their own characters. Usually a seller will coordinate a time and location in-game to meet your character.
Tips:
Be sure to confirm the time to account for time zone differences
Confirm which Shard or Server the delivery is to take place in case your game world has more than one.
Never, under any circumstances, return gold, item, etc. to the delivery character if ever asked. In the event the seller asks you to, please take A screenshot and report this to PlayerAuctions Customer Support.
Option 2: In-game Mailbox delivery.
Some sellers will select the option to deliver gold or items directly to an in-game mailbox. This option is less popular for larger Games like WoW, but is still viable amongst other games. This option can be convenient for smaller orders because you do not need to coordinate time of delivery.
Low Prices: Prices set by other players or PowerSellers on PlayerAuctions are significantly lower than the high markups you would find on expensive retail sites.
Guaranteed Security: PlayerAuctions is quite simply the most secure place to buy and sell MMO game assets. Through PlayerGuardian, you are 100% guaranteed full and as-described delivery, or your money back.
Reliable Delivery Speed: PlayerAuctions calculates each seller's average delivery speed from the seller's latest successfully completed deliveries, which gives you a clear idea of how fast the seller will deliver your order.
To see how quickly the seller may deliver your order, refer to the seller's delivery guarantee period, which is their promise to complete delivery within a certain timeframe after your payment is securely sent to PlayerAuctions and is successfully verified. Each seller sets their delivery guarantee period independent of PlayerAuctions. In the event that the seller is not able to complete the delivery within their guaranteed time, you may cancel the order without penalty for a hassle-free refund from PlayerAuctions.
PlayerAuctions guarantees that the seller will deliver your order, or your money back. The overwhelming majority of transactions through our site occur successfully. As for the very exceptional cases, you can rest assured that they have been carefully considered by our systems and processes, and we are well prepared to handle them in the rare event that they do occur. Read more.
PlayerGuardian Buyer Protections
PlayerAuctions is the most secure place to buy and sell MMO game assets. Our proprietary security technology, PlayerGuardian, keeps you, your payments, and your trades protected and private. The protections below are provided to all PlayerAuctions buyers.
Guaranteed Payment Security
Convenient & Worry-Free Trading
A Secure, Trusted Trading Community
Guaranteed Full and As-Described Delivery, or Your Money Back
Guaranteed Seller On-Time Delivery, or Your Money Back
Information Privacy
PlayerAuctions After Sale 100% Support Guarantee
Transparent Seller Service Ratings
Bank-Level Data Security
Read more
PlayerAuctions is an independent player-to-player marketplace for buying and selling virtual video game property. PlayerAuctions is NOT endorsed by, directly affiliated with, maintained, authorized, or sponsored by EverQuest or its trademark owner.
Select server and Faction