Buy Crowfall Gold - Crowfall Currency Market
With an inherently unique world system that separates it from other MMORPGs in the market, Crowfall offers gamers a singularly distinctive experience. Fund your adventure today by getting Crowfall gold from one of our trusted sellers. We offer the safest and easiest transactions for online gaming currency.
SELL
Darn! There Are No Offers...But Wait.
Did you know we have over 200 games available for trading? Here are our most popular ones:
Want To Be the First to Sell?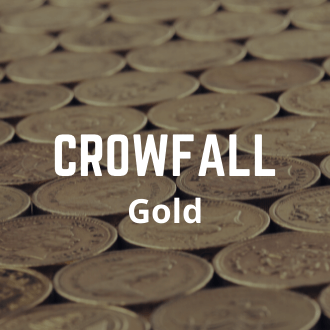 Why is Gold Important in Crowfall?
Amidst the slew of MMORPGs that the video game community has already no doubt tinkered with, Crowfall is the latest of the genre to grace PC players across the world. Thanks to its refreshing style and ever-changing worlds, Crowfall was even remarked by critics to be following the same vein as World of Warcraft, the greatest MMO (or at least possibly) of all time. Much like other similar games, Crowfall gives a nod to the aspect of farming gold. Since the aforementioned title is a medieval game, the developers concocted a brilliant plan for the players of Crowfall to always rely on the consistent flow of gold into their pockets. Without gold, they very well couldn't go about their business. While this can be seen as a tactic to get a firm grip on the players to consistently play the game, one can't deny that it's a successful strategy to keep the gamers from being too bored.
As players claim their virtual territories, capture mines, and build castles, they'll gradually be needing more and more gold as they go on with their playthrough. Luckily, there are monsters in Crowfall — lots of them. Players could fight them off and start their grind to get the necessary gold they need from there, but just killing monsters isn't the whole point of Crowfall. While monsters are a dime a dozen, they're intended to raise the general threat level within the game instead of being meat bags that simply drop gold when killed. Thus, this is not the primary focus for players to get gold. Instead, there are Adventure Zones that pepper the worlds in Crowfall — this is the meat and potatoes of how players progress through the game.
Adventure Zones: A Player's Best Friend in Crowfall
Adventure Zones, simply put, are where all the fun is at in Crowfall. As players choose their path whether to fight for glory, wealth, or power and in turn rise as an Eternal Champion, they will have to join the battle all the while when a powerful prophecy is unfolding that could well shake the very foundations of how a player's journey will be woven. As one conquers their enemies, they will first have to get into tip-top shape; Adventure Zones are the perfect hotspots around Crowfall to do just that. The zones offer a wide variety of monsters to fight as well as resources that can freely be gathered. Adventure Zones can be found almost anywhere in the Dying Worlds. And of course, players can accumulate a bit of gold here and there during the process of bulking up.
Based on the total ratings of 7 orders in the past year
Perfectly Smooth transaction, Great Communication, On time Delivery
2000 K Crowfall Gold
11/21/2021
smooth transaction.
400 K Crowfall Gold
11/15/2021
perfect as always. thx.
400 K Crowfall Gold
11/02/2021
perfect. smooth transaction.
300 K Crowfall Gold
09/13/2021
PlayerAuctions makes it safe to buy video game currencies from our members by securing your payment and guaranteeing delivery.
Buyer creates order and send payment to PlayerAuctions
PlayerGuardian secures payment
Seller completes delivery within delivery guarantee
Buyer confirm delivery
Seller receives disbursement
Option 1: In-game, Face to Face Delivery
Sellers will select this method of delivery if they intend to meet your character in-game with one of their own characters. Usually a seller will coordinate a time and location in-game to meet your character.
Tips:
Be sure to confirm the time to account for time zone differences
Confirm which Shard or Server the delivery is to take place in case your game world has more than one.
Never, under any circumstances, return gold, item, etc. to the delivery character if ever asked. In the event the seller asks you to, please take A screenshot and report this to PlayerAuctions Customer Support.
Option 2: In-game Mailbox delivery.
Some sellers will select the option to deliver gold or items directly to an in-game mailbox. This option is less popular for larger Games like WoW, but is still viable amongst other games. This option can be convenient for smaller orders because you do not need to coordinate time of delivery.
Low Prices: Prices set by other players or PowerSellers on PlayerAuctions are significantly lower than the high markups you would find on expensive retail sites.
Guaranteed Security: PlayerAuctions is quite simply the most secure place to buy and sell MMO game assets. Through PlayerGuardian, you are 100% guaranteed full and as-described delivery, or your money back.
Reliable Delivery Speed: PlayerAuctions calculates each seller's average delivery speed from the seller's latest successfully completed deliveries, which gives you a clear idea of how fast the seller will deliver your order.
To see how quickly the seller may deliver your order, refer to the seller's delivery guarantee period, which is their promise to complete delivery within a certain timeframe after your payment is securely sent to PlayerAuctions and is successfully verified. Each seller sets their delivery guarantee period independent of PlayerAuctions. In the event that the seller is not able to complete the delivery within their guaranteed time, you may cancel the order without penalty for a hassle-free refund from PlayerAuctions.
PlayerAuctions guarantees that the seller will deliver your order, or your money back. The overwhelming majority of transactions through our site occur successfully. As for the very exceptional cases, you can rest assured that they have been carefully considered by our systems and processes, and we are well prepared to handle them in the rare event that they do occur. Read more.
Crowfall Gameplay
The main gameplay of Crowfall is focused on temporary realms. They last anywhere from 2 weeks to months or a year. The realm starts as bountiful, where players can gather resources with little problem. PvP is the main draw of the game after all, but the fighting only really starts when resources begin to dwindle.
As time passes, resource nodes become fewer and fewer, while monsters and creatures spawn more and more. Players fight for the remaining nodes more fiercely. This continues until a faction or guild becomes a winner by completing the objectives in the realm.
With this kind of gameplay, having the means to earn gold could mean life or death for a player. Without gold, they might not be able to resupply themselves after dying and so will become a liability. Here are some methods to earning gold, so this doesn't happen.
How to Earn Crowfall Gold Fast
Gold (the currency, not the crafting material) is the primary currency of the game. It can be earned by selling loot or defeating mobs. Of course, players would like the most efficient and fastest ways to earn it, so here are a few methods to Crowfall gold farming.
Buy CF Gold
While this is a method the game doesn't like to acknowledge, it is a quick and easy way to get Crowfall gold. In just a few clicks and a short in-game meetup, buyers get their gold. They wouldn't have to grind or farm.
Of course, it comes with its problems. How would buyers know where and from whom to buy Crowfall gold? Fortunately, there are reliable online marketplaces that host trustworthy online sellers. Buyers can trade with those sellers without worry or fear. Plus, the marketplace provides great security and can provide consistent stock.
Defeating Mobs
Mobs give anywhere from 100-200 gold upon defeat. If going with this method, defeating humanoid enemies would give more gold than monstrous ones. Due to the characteristics of servers that go through a cycle, this is easier to do nearer the end of the world's lifespan.
When starting on a newly opened server, there are more resource nodes than mobs. As time passes, more and more mobs will appear, and resource nodes will become scarcer. It is still possible to do Crowfall gold farming near the start, but there will be more skirmishes with other players at first due to fewer mob spawns.
Enjoy Crowfall and Have Fun!
While doing Crowfall gold farming, don't forget to have fun! There are many activities to do in the game, such as defeating rivals or crafting. Otherwise, there's also hanging out with friends or making new ones. Having fun isn't always winning the large-scale battles, but also the little things.
At any rate, games are made so players can have fun. While there are many problems in the execution of Crowfall, anything can be fixed with time and the efforts of the developers. Games like FFXIV or Elder Scrolls Online are great examples of MMOs with a rough start. Now they're big names in the industry, enjoying a consistent player population.
Happy trading and remember to enjoy Crowfall!
PlayerGuardian Buyer Protections
PlayerAuctions is the most secure place to buy and sell MMO game assets. Our proprietary security technology, PlayerGuardian, keeps you, your payments, and your trades protected and private. The protections below are provided to all PlayerAuctions buyers.
Guaranteed Payment Security
Convenient & Worry-Free Trading
A Secure, Trusted Trading Community
Guaranteed Full and As-Described Delivery, or Your Money Back
Guaranteed Seller On-Time Delivery, or Your Money Back
Information Privacy
PlayerAuctions After Sale 100% Support Guarantee
Transparent Seller Service Ratings
Bank-Level Data Security
Read more
Select server and Faction