656 GS - 62 Sorceress/Witch - 4 T4 Pets - T4 Fairy - Miraculous Cheer 5 - Pen Blackstar Mainhand with Matching Name - Pegasus Dream Horse - Boss Alts
I Want to Sell
Black Desert-PC-NA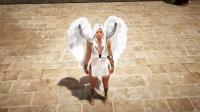 Jul-01-2022 20:22:05 PM

296 time(s)

24 Hours

30-Day Seller Performance

Total orders

Black Desert
account reviews

Total rating

Black Desert
account rating

Total orders: 2

Member since: 2015

5.0

Black Desert account : Seller Rating

(1)
1. Check out and complete the payment
2. Receive an email with the Game Account details
3. Log in to the Game Account and verify description
4. Confirm the delivery
5. Seller gets paid
This account has a level 62 Sorceress/Witch pair that is 656 gearscore.
They are tagged with:
pen heve c8
pen bhegs c4 (with matching name)
pen urugons c4 (with matching name)
duo fallen god (with matching name)
pen blackstar mainhand(with matching name)
c20 tri dande (succession build, tho there is a pen dande available)
pen nouver (with matching name) and tet kutum for both characters for grinding.
They also share the 3 pen capotia accessories from season with cups (crit cup for ring), the guaranteed pen accessory (crescent ring with crit cup), 2 tet narc earrings, 2 HP artifacts (they also have magical accuracy artifacts available), a vells heart, and a manos riding crop.
The witch also has perillas star and an ultimate tet rosar offhand for T1s/T2s.
The sorc has a 150/150/150/150 T8 horse with gear and artisan training. The witch has the pegasus which is 160/160/160/160 with gear and artisan training.
Both the witch and sorceress have multiple pearl outfits available. They also each have about 100 inventory slots and good weight for grinding. They also both have the pearl bag for outfits.
There are 4 t4 pets and multiple t3 pets in addition to a handful of other pets and wizard gosphys which are ready to use for future t4 attempts.
The fairy is max tier and fully leveled with miraculous cheer 5 and feathery steps. The fairy also has the free pearl res ability. There is also a spare max tier fairy on the account waiting to be leveled and there are reroll items leftover.
There is a shai with p2w outfits (cooking and training), leveled lifeskills, good lifeskill equipment, and guru cooking for daily turnins. The shai also has multiple pearl outfits available. The shai also has around 100 inventory slots available and plenty of weight for lifeskilling. The shai also has a 150/150/150/150 horse with gear and artisan training. The shai also has multiple pearl outfits and underwear. The shai also has boss alt comparable gear.
There are multiple sets of weapon exchange coupons.
There is 2 billion silver available in the market including an order for hp cup for ring.
There is a Pearl Tent on the account.
13 / 15 of bartalis books completed with the ap from the 14th book completed
1 / 2 dorim morgrims with the ap / dp from the 2nd book completed
1004 quests completed for rulupees travel log
1 /2 book of margahan with 50% of book 2 completed
There are over 10 transaction maids and over 10 storage maids.
There are plenty of enhancement mats and advice of valks available for future enhancing. There are also plenty of cron stones and mats available for more dream horse attempts.
There are multiple fully equipped boss alts with pearl outfits and underwear at level 61 with high skill points (lahn, kuno, mystic, tamer).
There is a level 57 DK with pearl outfit and underwear.
There is a level 60 Valk.
There is a level 60 Corsair with pearl outfit and underwear.
There is a level 58 Nova with multiple pearl outfits and underwear (including canape for alt cooking)
There is a level 60 Drakania with multiple pearl outfit pieces.
If you are interested in the account, but would like a different character leveled up: feel free to message me. I might be able to level up the character you are interested to 62 and increase its skill points so you can easily tag when you purchase the account.
| Feedback | Comment | From Buyer | Time |
| --- | --- | --- | --- |
PlayerAuctions makes it safe to buy from our members by securing your payment and guaranteeing delivery.
Buyer creates order and send payment to PlayerAuctions
PlayerGuardian secures payment
Seller completes delivery within delivery guarantee
Buyer confirm delivery
Seller receives disbursement
Option 1: In-game, Face to Face Delivery
Sellers will select this method of delivery if they intend to meet your character in-game with one of their own characters. Usually a seller will coordinate a time and location in-game to meet your character.
Tips:
Be sure to confirm the time to account for time zone differences
Confirm which Shard or Server the delivery is to take place in case your game world has more than one.
Never, under any circumstances, return gold, item, etc. to the delivery character if ever asked. In the event the seller asks you to, please take A screenshot and report this to PlayerAuctions Customer Support.
Option 2: In-game Mailbox delivery.
Some sellers will select the option to deliver gold or items directly to an in-game mailbox. This option is less popular for larger Games like WoW, but is still viable amongst other games. This option can be convenient for smaller orders because you do not need to coordinate time of delivery.
Low Prices: Prices set by other players or PowerSellers on PlayerAuctions are significantly lower than the high markups you would find on expensive retail sites.
Guaranteed Security: PlayerAuctions is quite simply the most secure place to buy and sell MMO game assets. Through PlayerGuardian, you are 100% guaranteed full and as-described delivery, or your money back.
Reliable Delivery Speed: PlayerAuctions calculates each seller's average delivery speed from the seller's latest successfully completed deliveries, which gives you a clear idea of how fast the seller will deliver your order.
To see how quickly the seller may deliver your order, refer to the seller's delivery guarantee period, which is their promise to complete delivery within a certain timeframe after your payment is securely sent to PlayerAuctions and is successfully verified. Each seller sets their delivery guarantee period independent of PlayerAuctions. In the event that the seller is not able to complete the delivery within their guaranteed time, you may cancel the order without penalty for a hassle-free refund from PlayerAuctions.
PlayerAuctions guarantees that the seller will deliver your order, or your money back. The overwhelming majority of transactions through our site occur successfully. As for the very exceptional cases, you can rest assured that they have been carefully considered by our systems and processes, and we are well prepared to handle them in the rare event that they do occur. Read more.
PlayerGuardian Buyer Protections
PlayerAuctions is the most secure place to buy and sell MMO game assets. Our proprietary security technology, PlayerGuardian, keeps you, your payments, and your trades protected and private. The protections below are provided to all PlayerAuctions buyers.
Guaranteed Payment Security
Convenient & Worry-Free Trading
A Secure, Trusted Trading Community
Guaranteed Full and As-Described Delivery, or Your Money Back
Guaranteed Seller On-Time Delivery, or Your Money Back
Information Privacy
PlayerAuctions After Sale 100% Support Guarantee
Transparent Seller Service Ratings
Bank-Level Data Security
Read more