Buy & Sell Arcane Legends Gold – AL Market
Whether you're a rogue, a human, or a sorcerer, playing Arcane Legends can be tough when you're low on gold. So make sure to fill your virtual coffers with Arcane Legends gold. Get the sweetest deals right here at PlayerAuctions, your one-stop shop for all the MMO resources you will ever need!
SELL
Kelvinpadilla
201972985
Best deal among sellers with a fair amount of ratings and feedback score.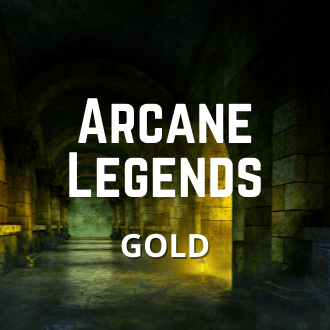 Why Getting Arcane Legends Gold Matters
Arcane Legends is an MMORPG that has crossplay, meaning you can play it at home on your PC or on your phone whenever you're out and about. This not only gives you freedom with how you want to play the game, but ample time to grind for that shining, shimmering gold! But alas! Not everyone has that kind of time in their hands. Luckily for you, we're here to help you in your times of need. Thanks to our sellers here at PlayerAuctions, you can get as much gold as you want and as many times as you want!
So what's keeping you? Purchase some Arcane Legends gold now to buy all of the weapons and items you need!
How Do I Buy Arcane Legends Gold?
Select the amount of gold that you want to purchase from any of your preferred sellers.
Register/log in as a buyer.
Send in the payment to our system and we'll hold onto it for you.
Coordinate with the seller via our onsite messenger to arrange a meetup in the game.
Meet up with the seller in-game for him/her to transfer the gold to your character.
Once the transfer/trade is done, check if the amount of gold given to you is exact.
When you're satisfied with your purchase, confirm to send the payment to the seller.
Why You Should Get Arcane Legends Gold
Arcane Legends Gold is completely free to play and is always filled with different sorts of ways to farm gold, so why would you instead pay real money to get some? We understand your hesitation when it comes to buying anything in-game related, but rest assured that PlayerAuctions is completely safe and secure! We've also rounded up a couple of reasons why you should get Arcane Legends gold via our website if you're still on the fence.
Here are some of them:
1. Save Time

You can grind within the game to get gold, but that can easily take days if not weeks (depending on the amount that you're going for). Buying Arcane Legends gold straight from us not only saves you time, but also effort for just a few bucks—you don't have to tire yourself out! It doesn't help that you'll constantly have to earn money as well. If you're the type of person who's either always busy or has too many activities going on, then we encourage you to purchase some gold from one of our sellers instead. That way, you can enjoy Arcane Legends for what it is minus the whole farming process that MMOs are (in)famous for.

2. Arcane Legends Gives Importance to Customizability

Besides focusing on action-oriented combat, Arcane Legends has a highly customizable system that allows players to fully control the look and feel of their characters (and pets!). At the start, you'll get to choose a pet that has its own unique attributes and ability. There's a leveling scheme per pet as well, with over 40 unique pets for you to collect and buy. Besides that, there are five gear slots that you'll also have to worry about: weapon, helm, body, ring, and amulet slots. One piece of gear can easily cost you thousands of gold, especially if you have a high-level character already. So, if you're into customizing your character down to the tee and would love to have the strongest gear, buying Arcane Legends gold is almost a no-brainer!

3. Always Have the Necessities On-Hand

Staple items like potions are always part of a player's inventory. By having lots of gold at any given time, you'll always have access to these basic necessities. Your journey to be the strongest fighter in Arcane Legends will be long and tough, but by equipping yourself with items that can greatly aid you during battle, there's no doubt your adventure will be a lot easier.
Based on the total ratings of 72 orders in the past year
Very good seller. Nothing else to add just on point
100000 K Arcane-Legends Gold
10/30/2023
PlayerAuctions makes it safe to buy video game currencies from our members by securing your payment and guaranteeing delivery.
Buyer creates order and send payment to PlayerAuctions
PlayerGuardian secures payment
Seller completes delivery within delivery guarantee
Buyer confirm delivery
Seller receives disbursement
Option 1: In-game, Face to Face Delivery
Sellers will select this method of delivery if they intend to meet your character in-game with one of their own characters. Usually a seller will coordinate a time and location in-game to meet your character.
Tips:
Be sure to confirm the time to account for time zone differences
Confirm which Shard or Server the delivery is to take place in case your game world has more than one.
Never, under any circumstances, return gold, item, etc. to the delivery character if ever asked. In the event the seller asks you to, please take A screenshot and report this to PlayerAuctions Customer Support.
Option 2: In-game Mailbox delivery.
Some sellers will select the option to deliver gold or items directly to an in-game mailbox. This option is less popular for larger Games like WoW, but is still viable amongst other games. This option can be convenient for smaller orders because you do not need to coordinate time of delivery.
Low Prices: Prices set by other players or PowerSellers on PlayerAuctions are significantly lower than the high markups you would find on expensive retail sites.
Guaranteed Security: PlayerAuctions is quite simply the most secure place to buy and sell MMO game assets. Through PlayerGuardian, you are 100% guaranteed full and as-described delivery, or your money back.
Reliable Delivery Speed: PlayerAuctions calculates each seller's average delivery speed from the seller's latest successfully completed deliveries, which gives you a clear idea of how fast the seller will deliver your order.
To see how quickly the seller may deliver your order, refer to the seller's delivery guarantee period, which is their promise to complete delivery within a certain timeframe after your payment is securely sent to PlayerAuctions and is successfully verified. Each seller sets their delivery guarantee period independent of PlayerAuctions. In the event that the seller is not able to complete the delivery within their guaranteed time, you may cancel the order without penalty for a hassle-free refund from PlayerAuctions.
PlayerAuctions guarantees that the seller will deliver your order, or your money back. The overwhelming majority of transactions through our site occur successfully. As for the very exceptional cases, you can rest assured that they have been carefully considered by our systems and processes, and we are well prepared to handle them in the rare event that they do occur. Read more.
PlayerGuardian Buyer Protections
PlayerAuctions is the most secure place to buy and sell MMO game assets. Our proprietary security technology, PlayerGuardian, keeps you, your payments, and your trades protected and private. The protections below are provided to all PlayerAuctions buyers.
Guaranteed Payment Security
Convenient & Worry-Free Trading
A Secure, Trusted Trading Community
Guaranteed Full and As-Described Delivery, or Your Money Back
Guaranteed Seller On-Time Delivery, or Your Money Back
Information Privacy
PlayerAuctions After Sale 100% Support Guarantee
Transparent Seller Service Ratings
Bank-Level Data Security
Read more
PlayerAuctions is an independent player-to-player marketplace for buying and selling virtual video game property. PlayerAuctions is NOT endorsed by, directly affiliated with, maintained, authorized, or sponsored by Arcane Legends or its trademark owner.
Select server and Faction